365 skies
Follow along as I paint a windowscape each morning for a year. I share tips and insights about what I learn along the way.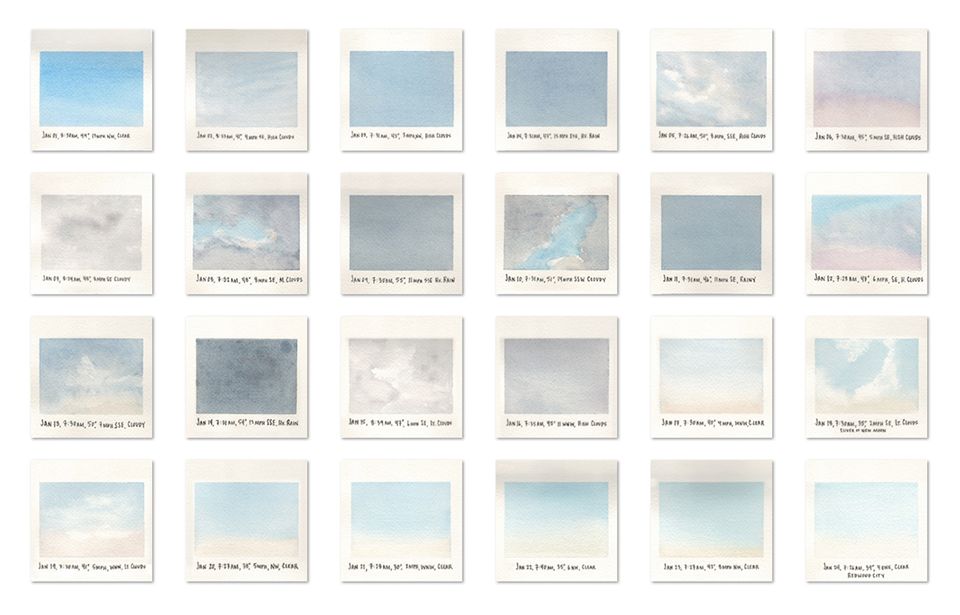 Last updated 09/23/2023
I began painting windowscapes (aka "skyscapitos", or mini skyscapes) in late October 2022 and enjoyed the process so much I decided to commit to painting a windowscape each morning throughout the entire year of 2023. That's 365 days of skies! ⛅
I post handy references and completed pages and updates here on an ongoing basis. Be sure to bookmark this page if you'd like to follow along.
I also post live painting sessions, masking sessions, and videos about windowscapes on my @brookenoticed Instagram account if you'd like to follow along there.
---
Overview

What are windowscapes?
Windowscapes are a small snapshot of the sky and help us scale down something as vast as the sky into a far more approachable subject. They're a great way to observe nature intentionally and notice patterns over time. They also provide an opportunity to nature journal during a portion of the day when you might not be able to get outside or wouldn't otherwise have enough time available.
My process
Each morning at 7:30 a.m., I paint the viewable portion of the southern sky from my drawing desk and record weather data. My weather data includes the date, time, temperature, wind speed, and conditions (e.g., cloudy, rainy, clear) for the time observed. I log this on a spreadsheet I've printed out and keep in the cover of my watercolor block.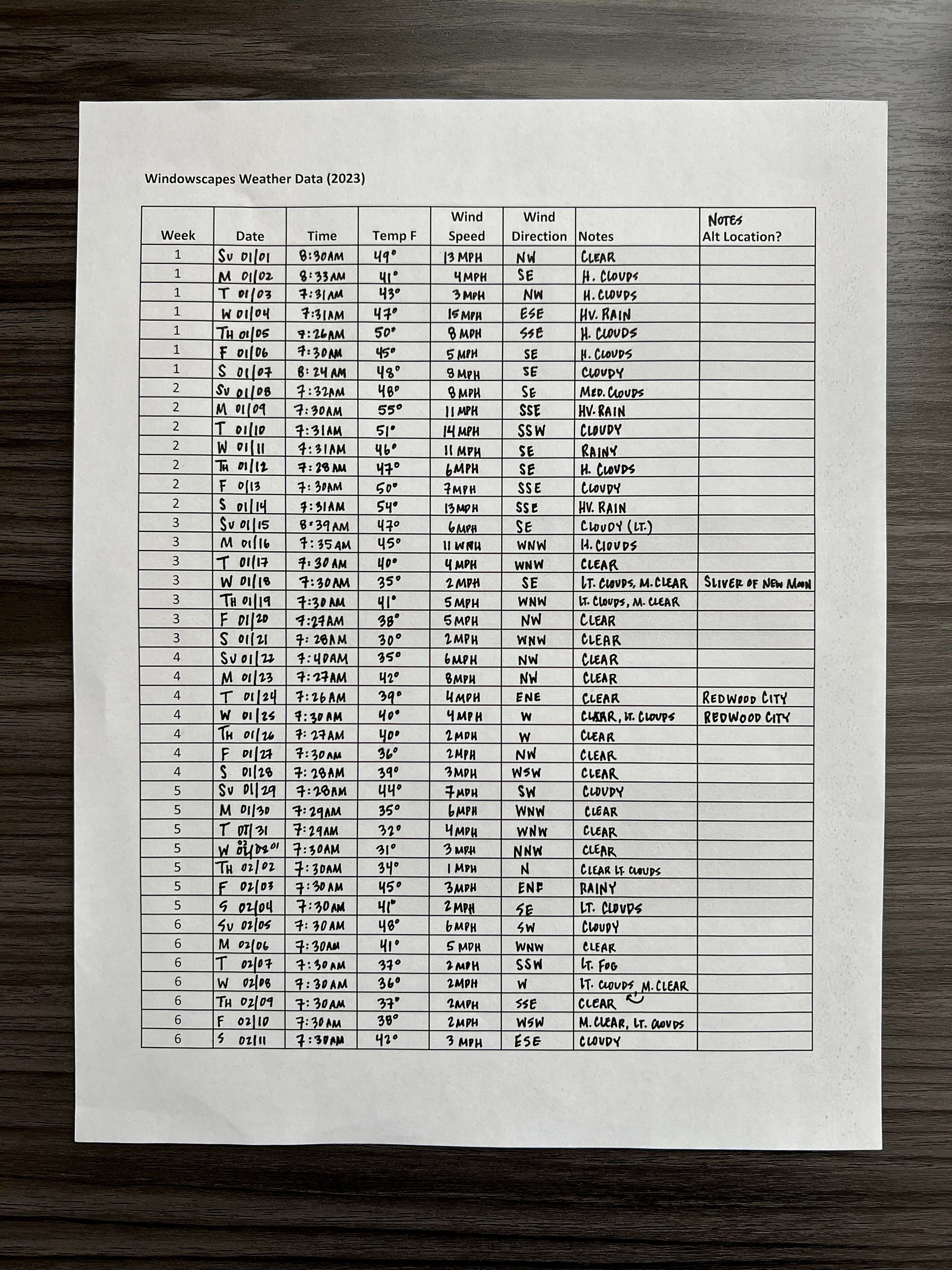 Since it's much easier (and faster) to fill a 3x2-inch frame than a 12x9-inch frame, I limit my windowscapes to ~3x2 inches and fill the entire 3x2-inch frame with what I observe in the sky in that moment. The full process takes me ~5-10 minutes total. This makes it super easy for me to continue to maintain this habit each day no matter how busy things might become.
At the end of each week, once I've finished another page of windowscapes, I remove the masking tape and write in the weather data for each day.
Extra step: I like to have a digital archive of my windowscapes to reference and share, so I scan each page and then format the digital file in two ways: 1. full page mode (pictured below) and 2. single day mode (each day gets its own image file).
---
Resources
My windowscapes weather data template. I print this and add to it each day. It's formatted with 6 weeks-worth of rows to write in your weather data. Once I remove the masking tape from a week of windowscapes, I reference this log to write my data under each windowscape entry:
---
Windowscapes archive (01/01 - 09/23/2023)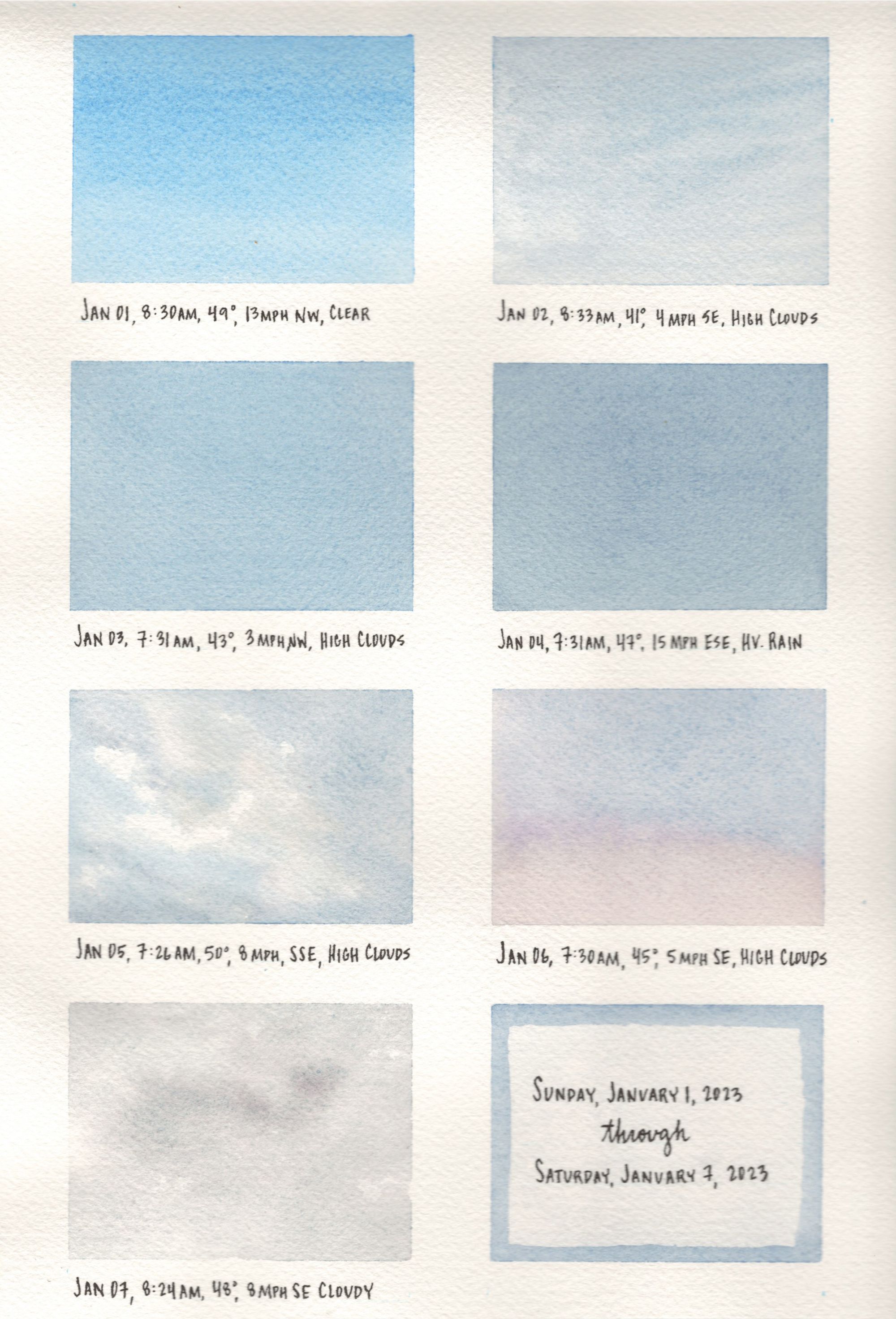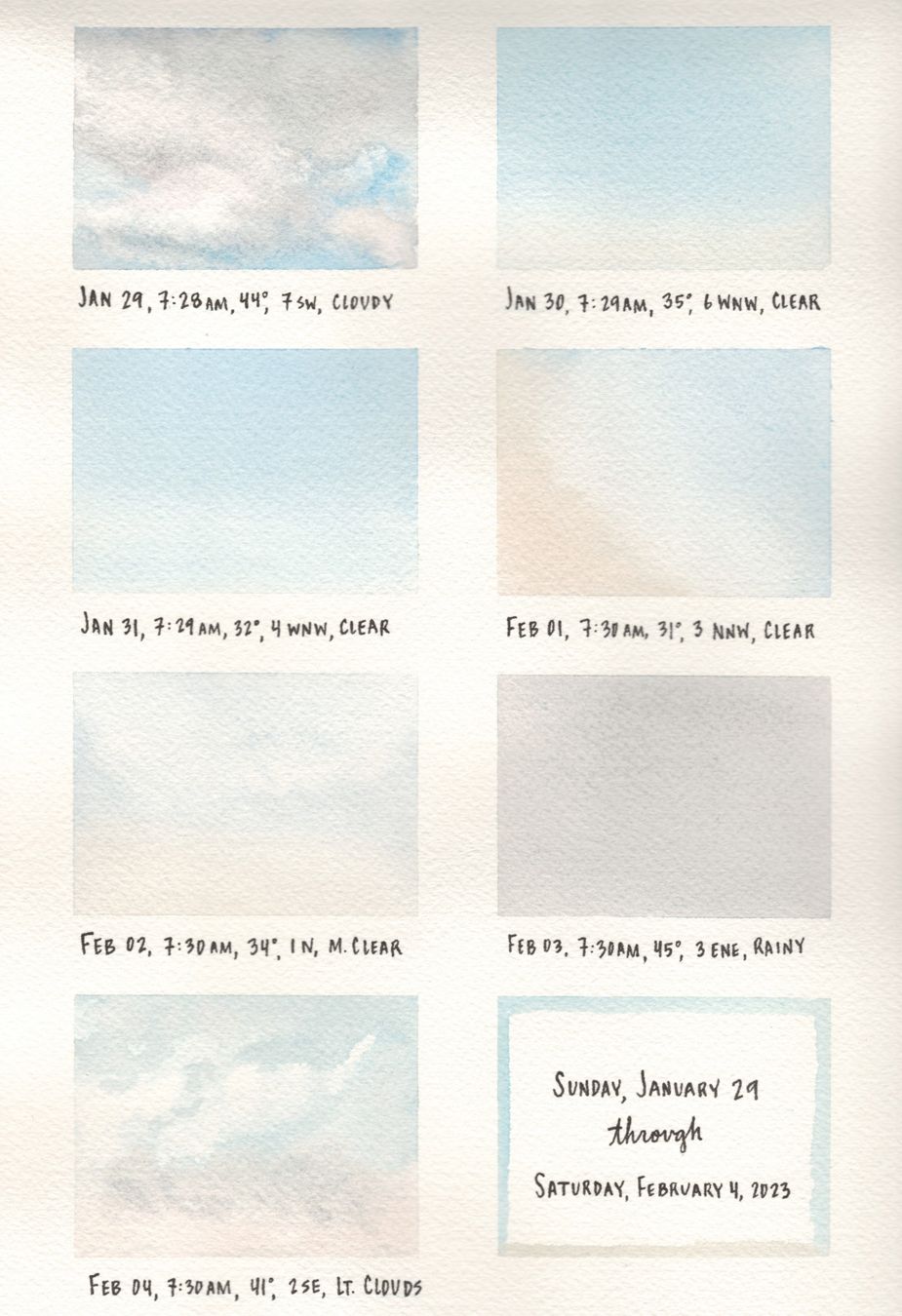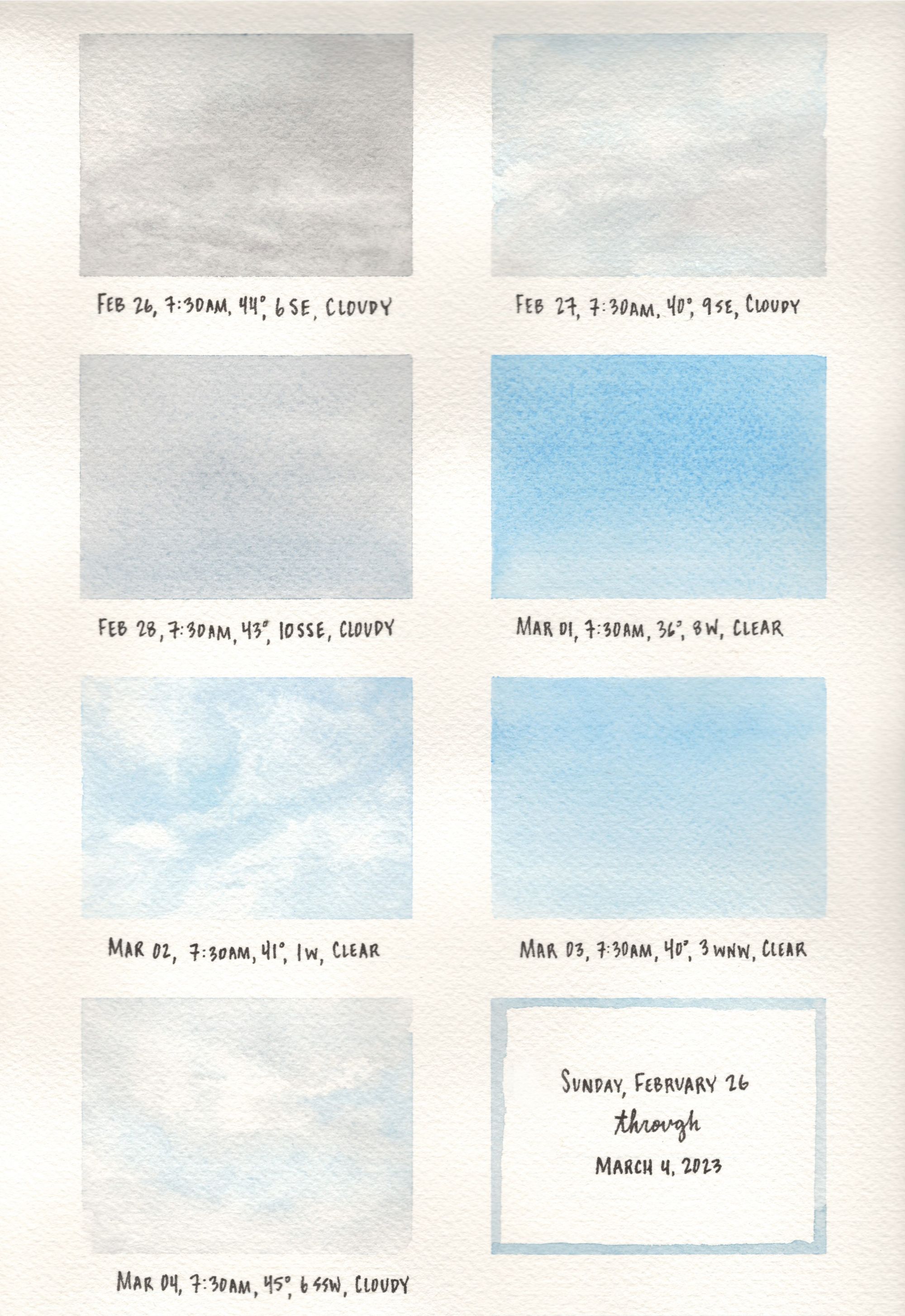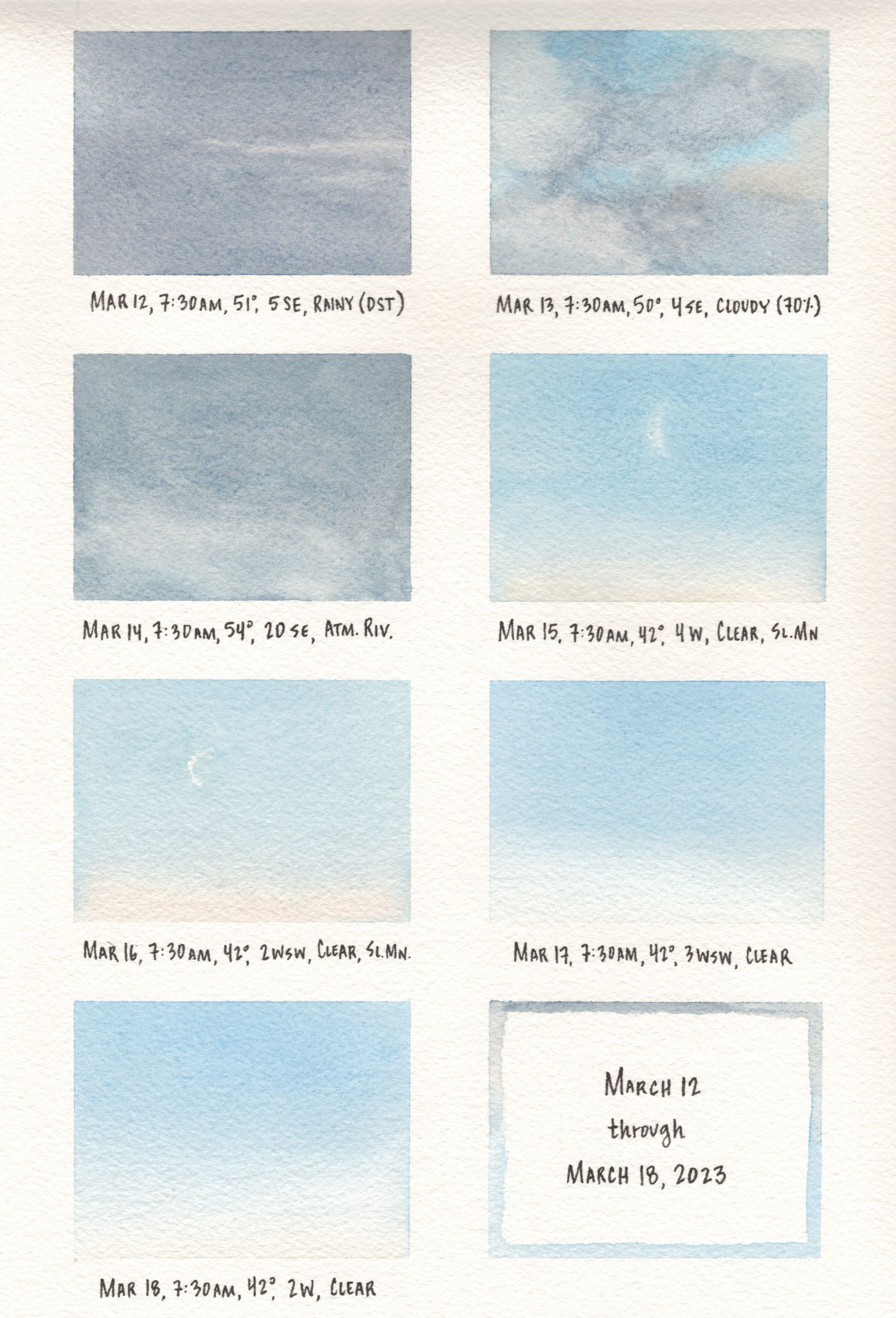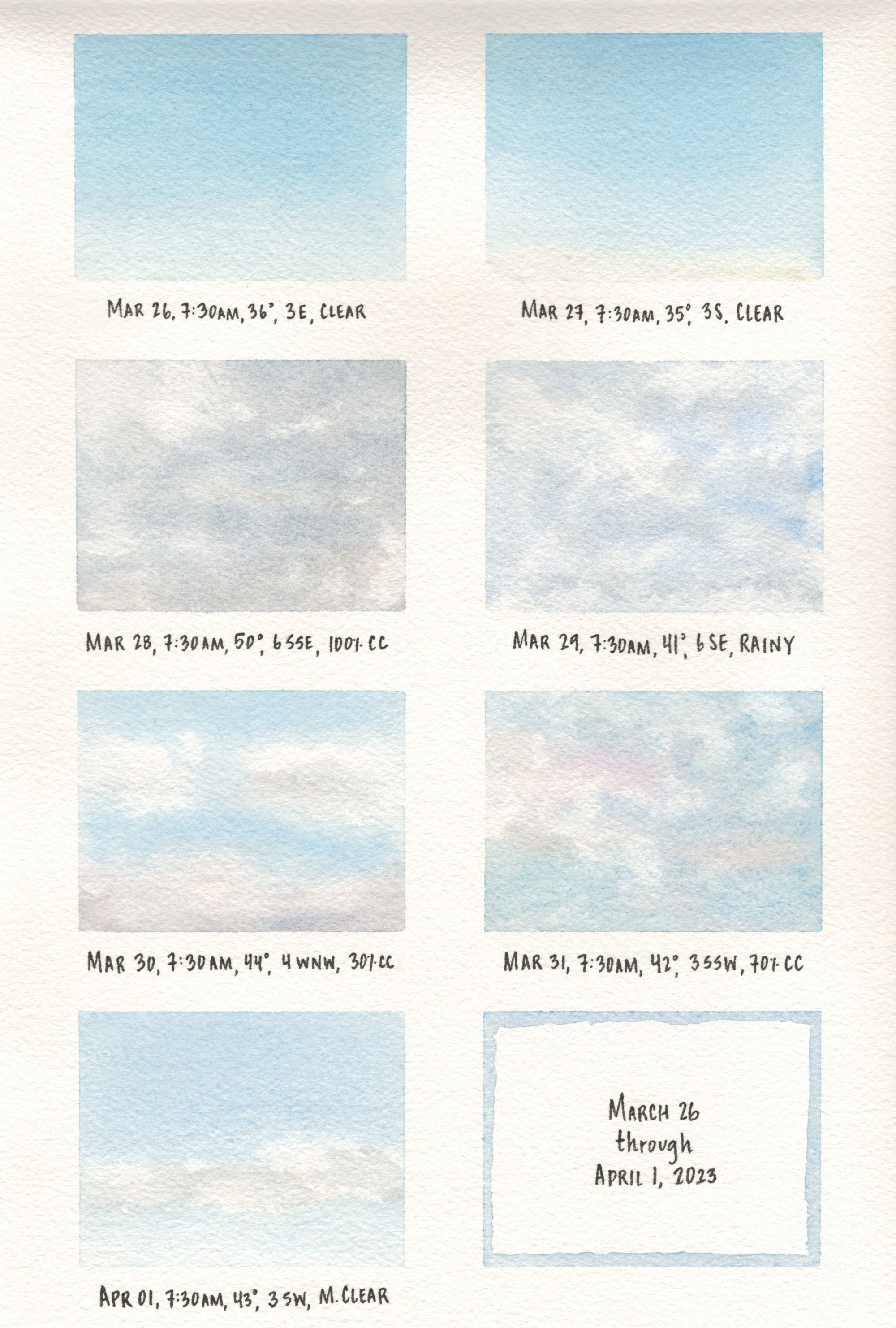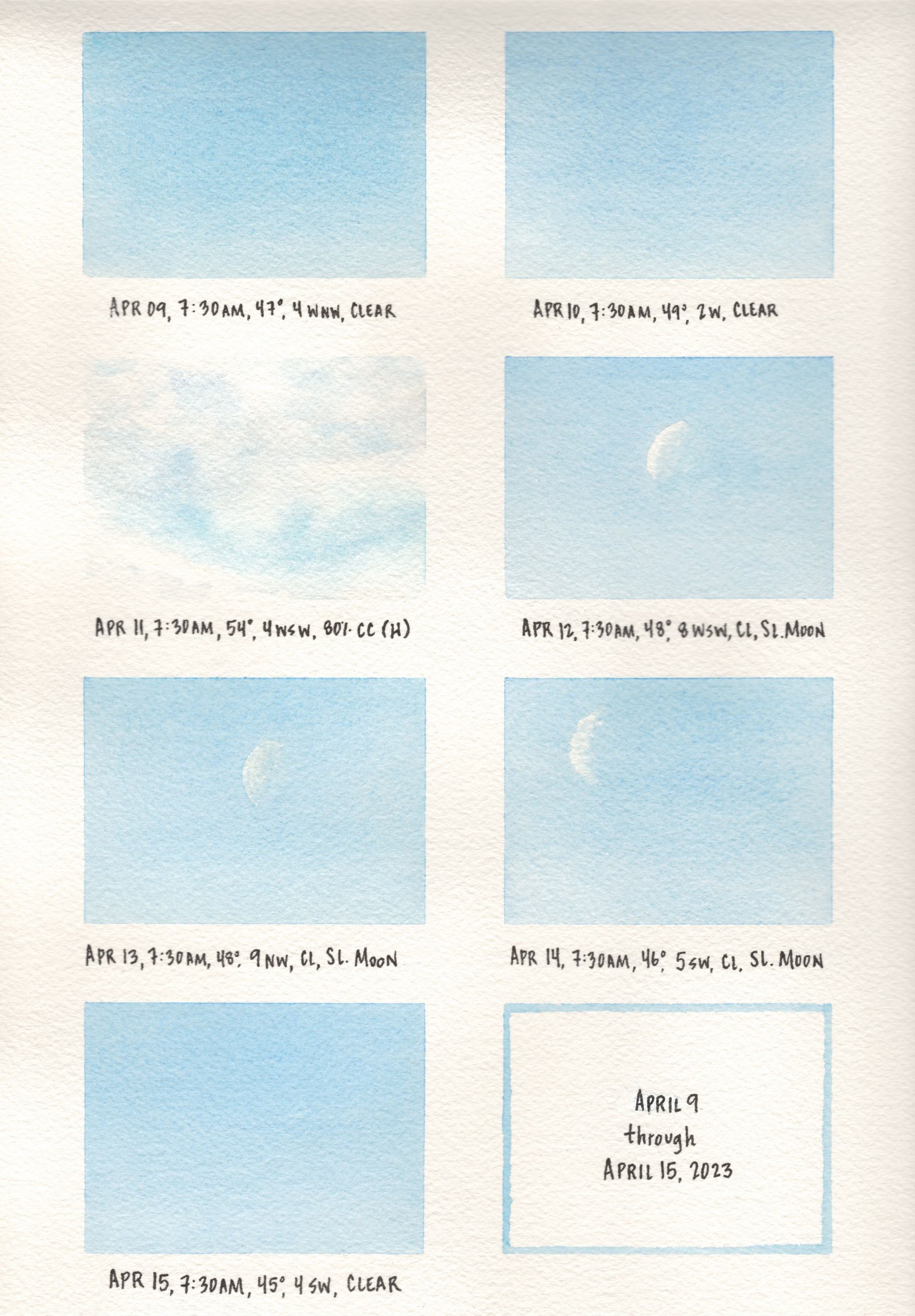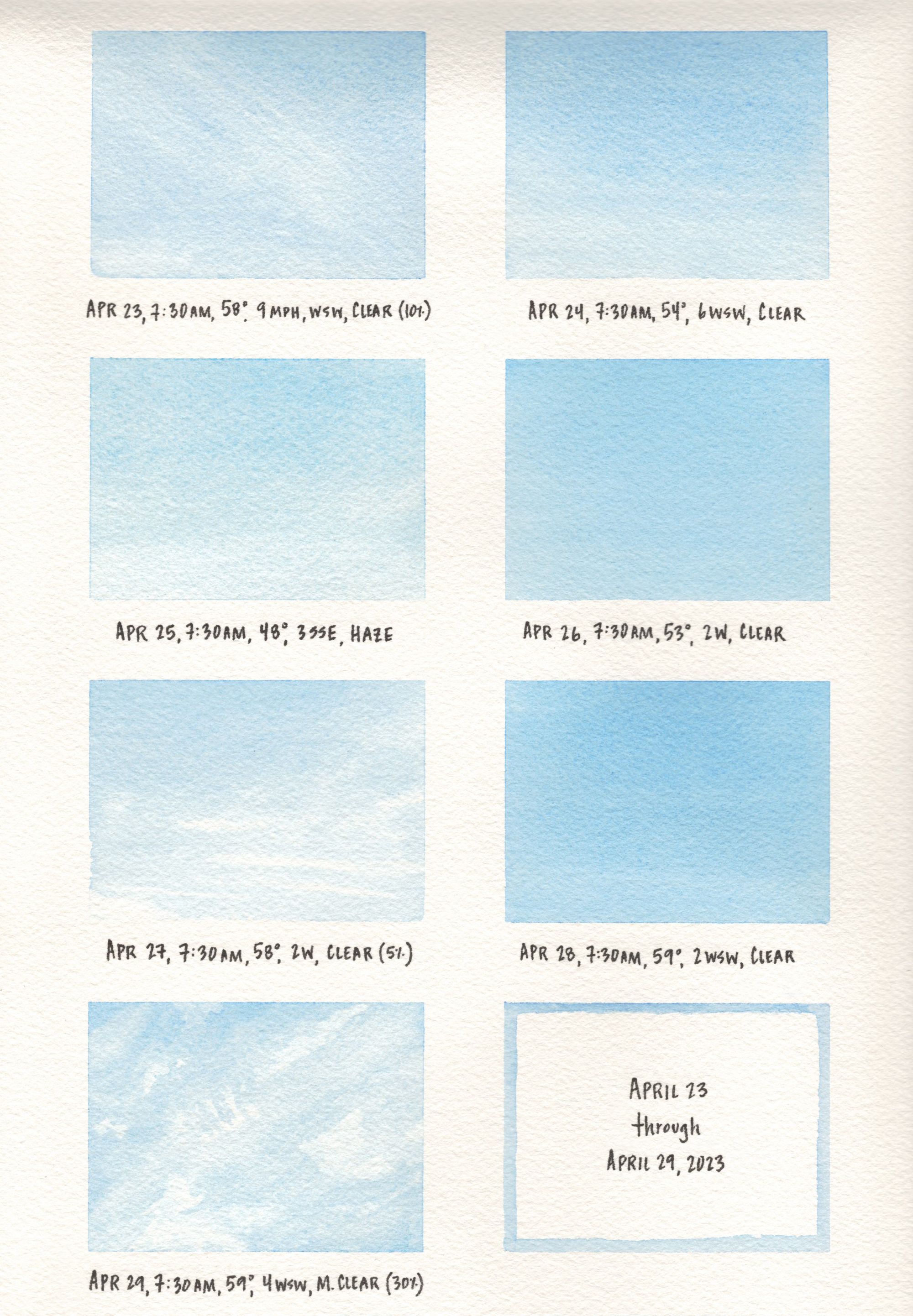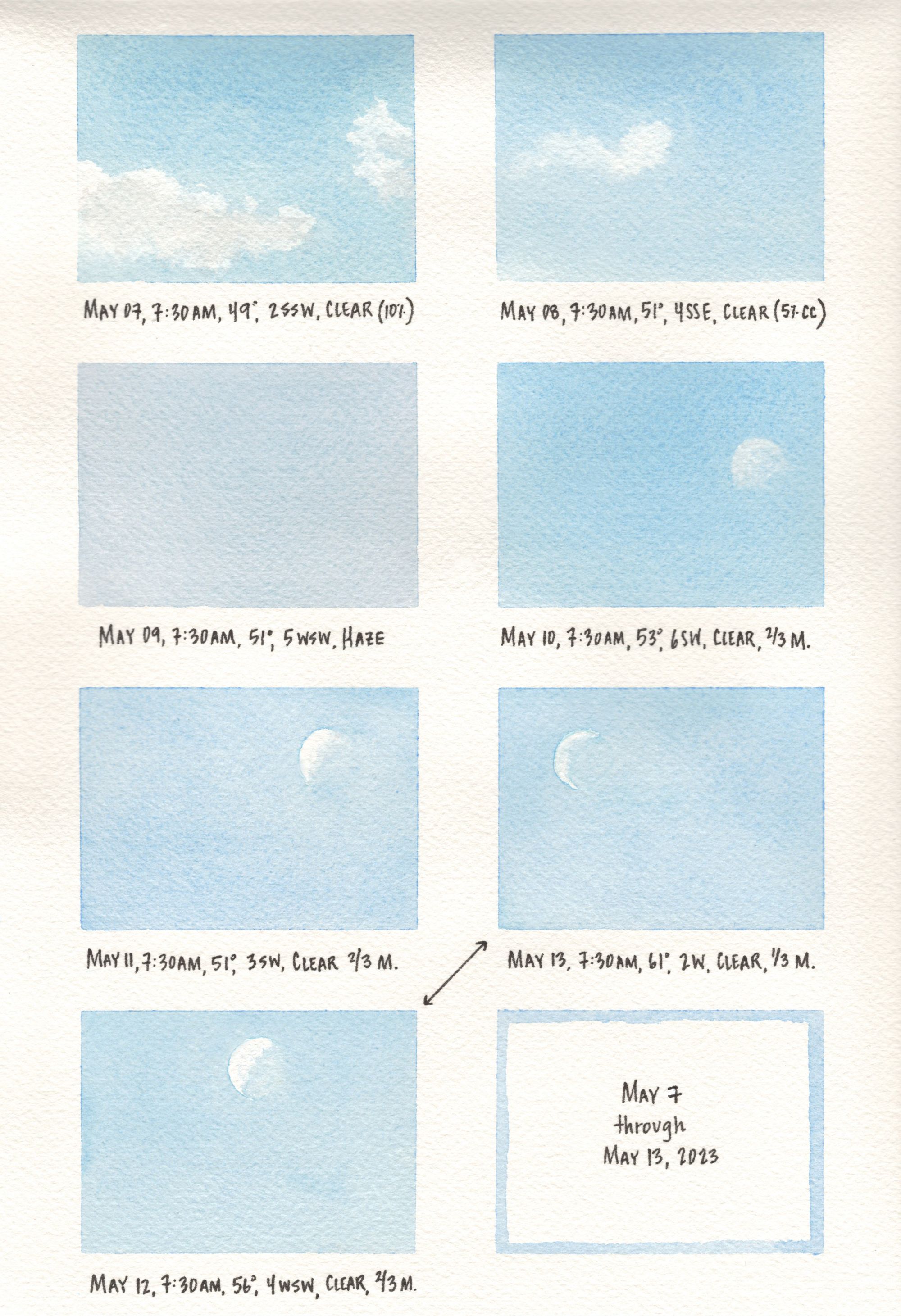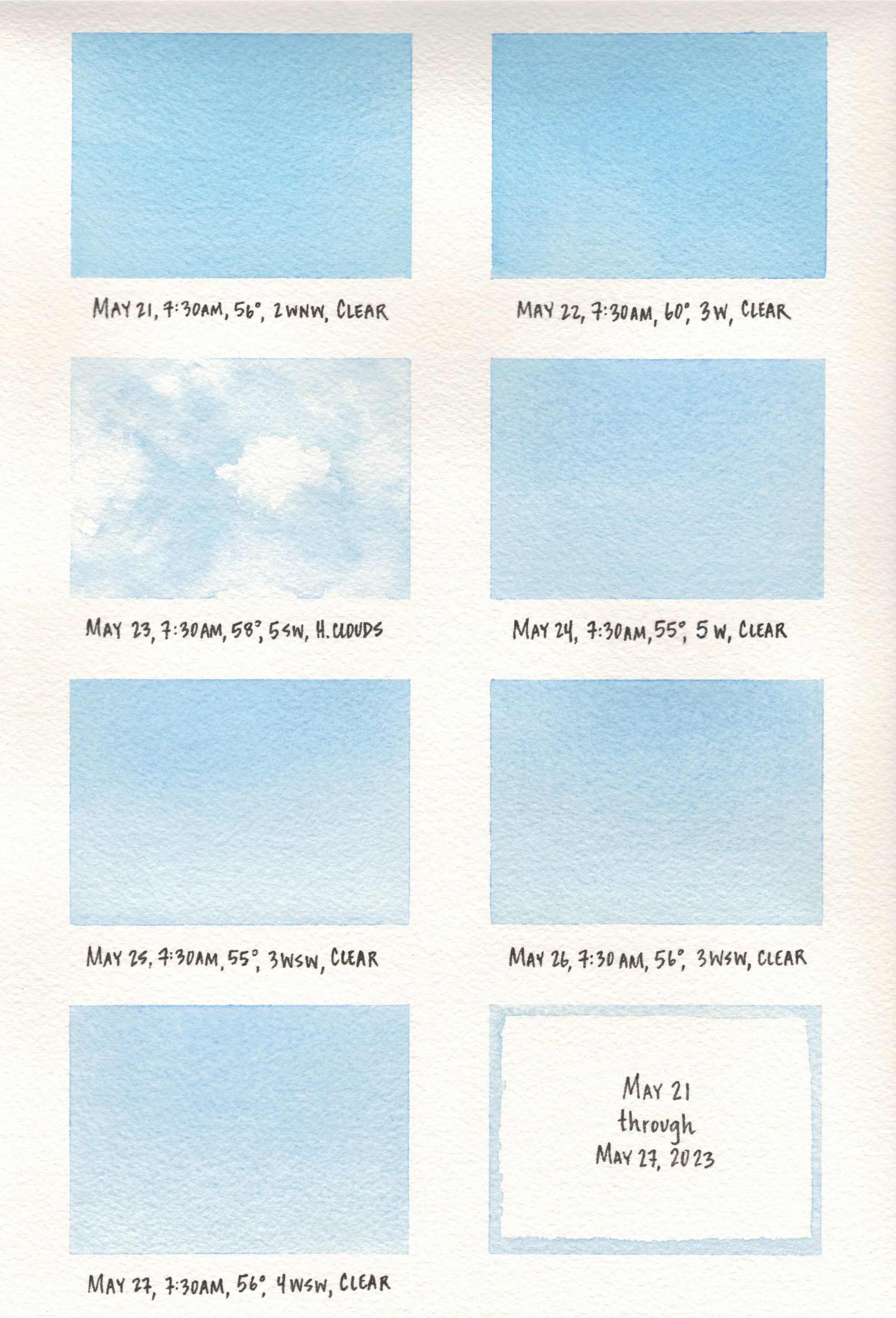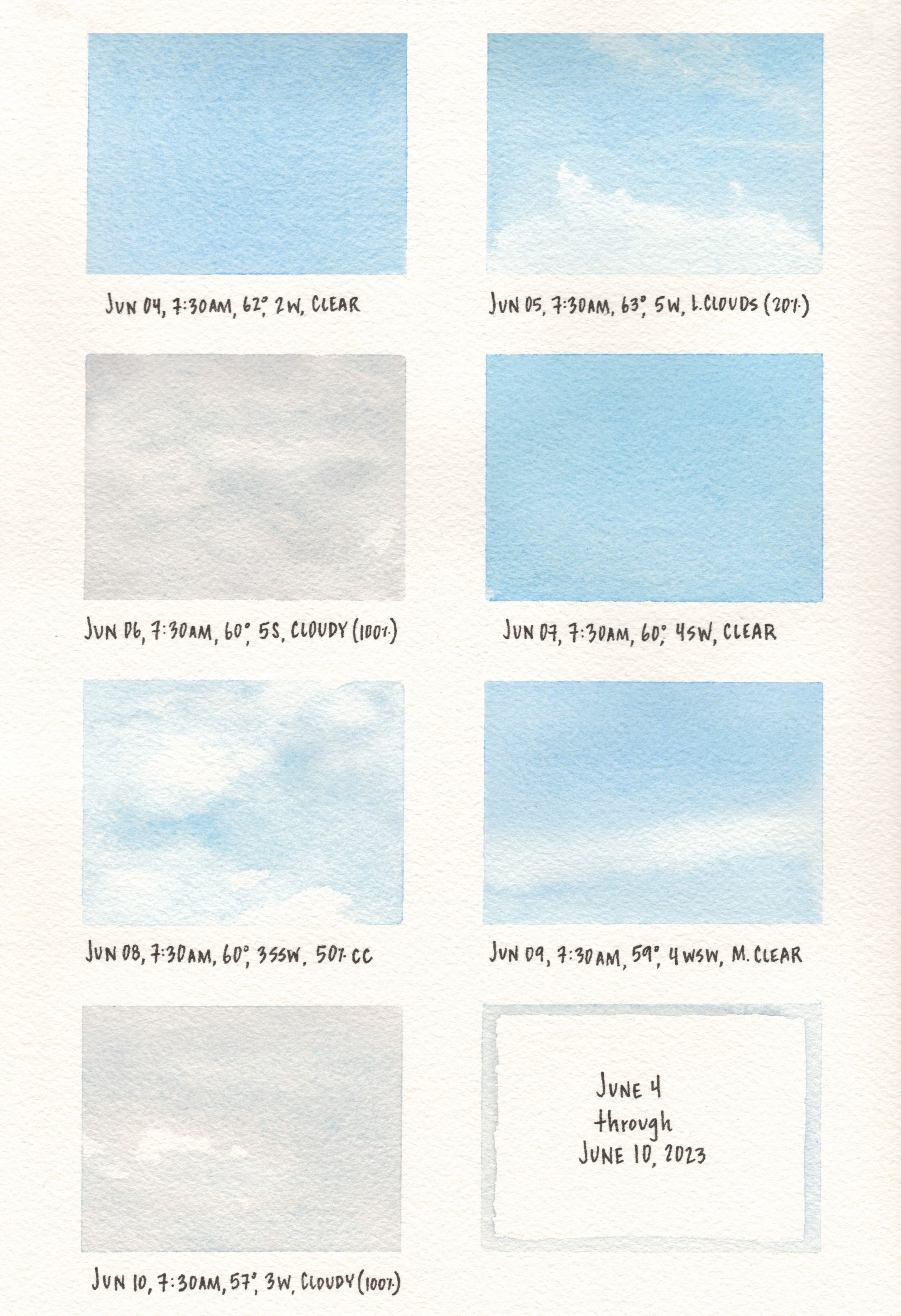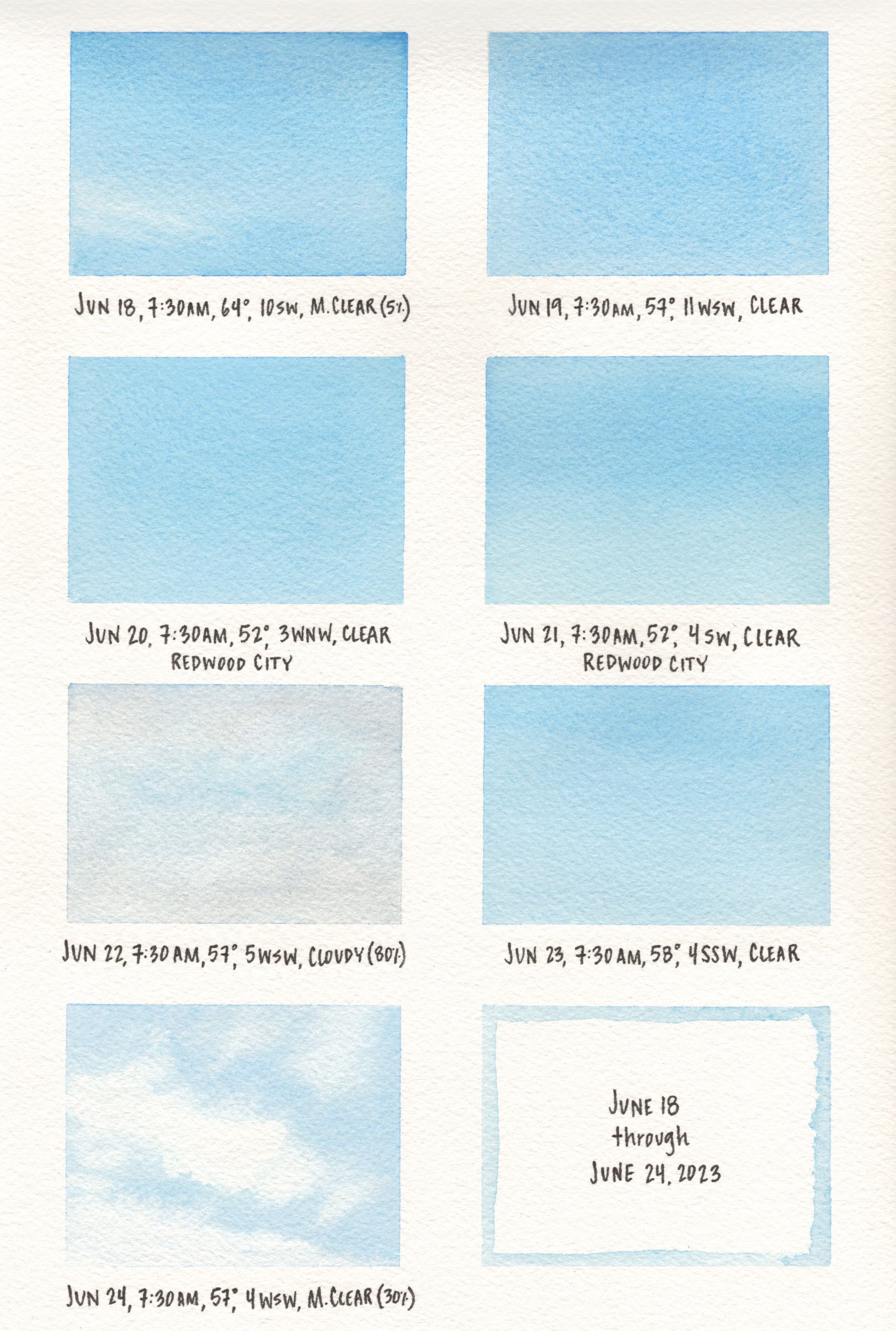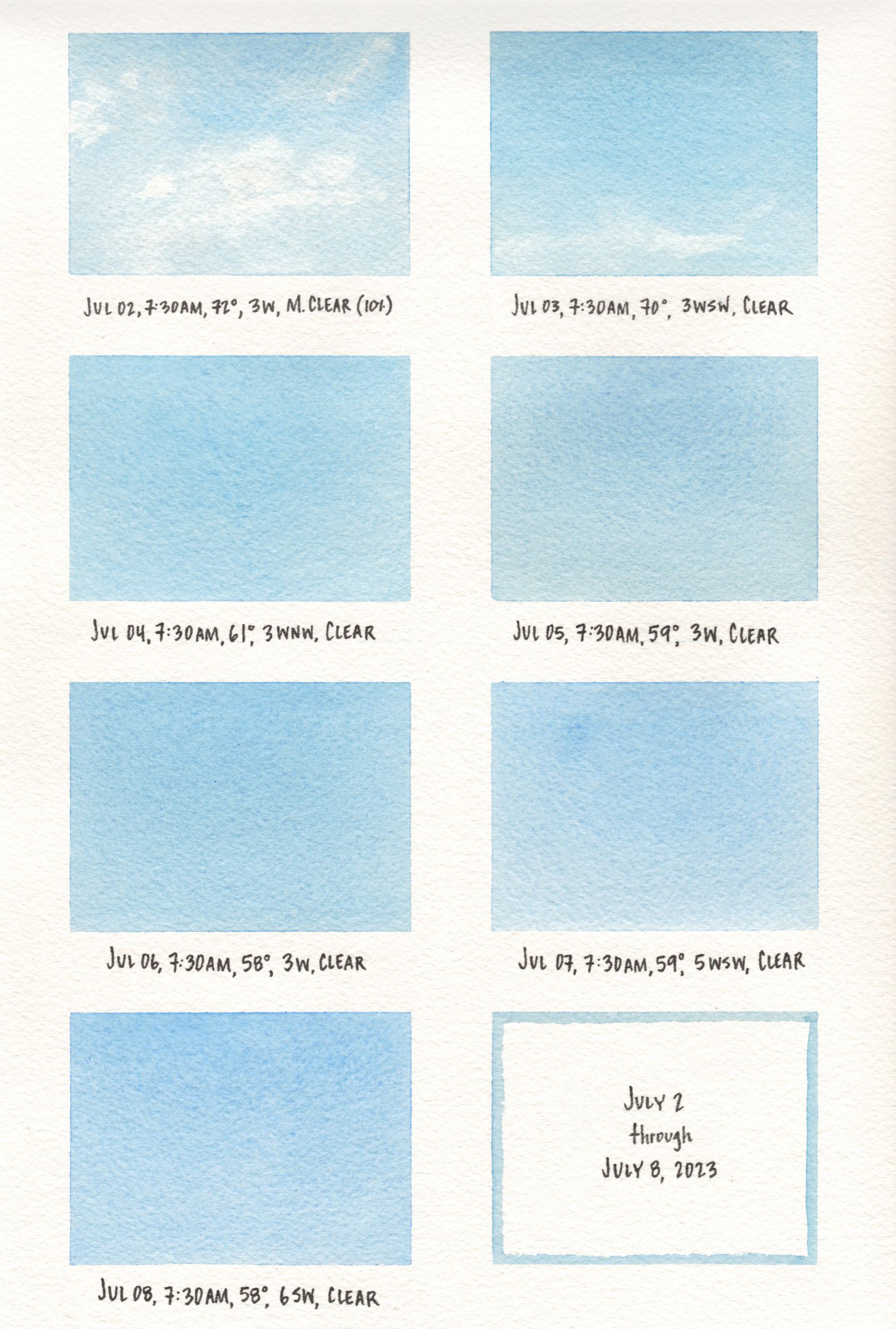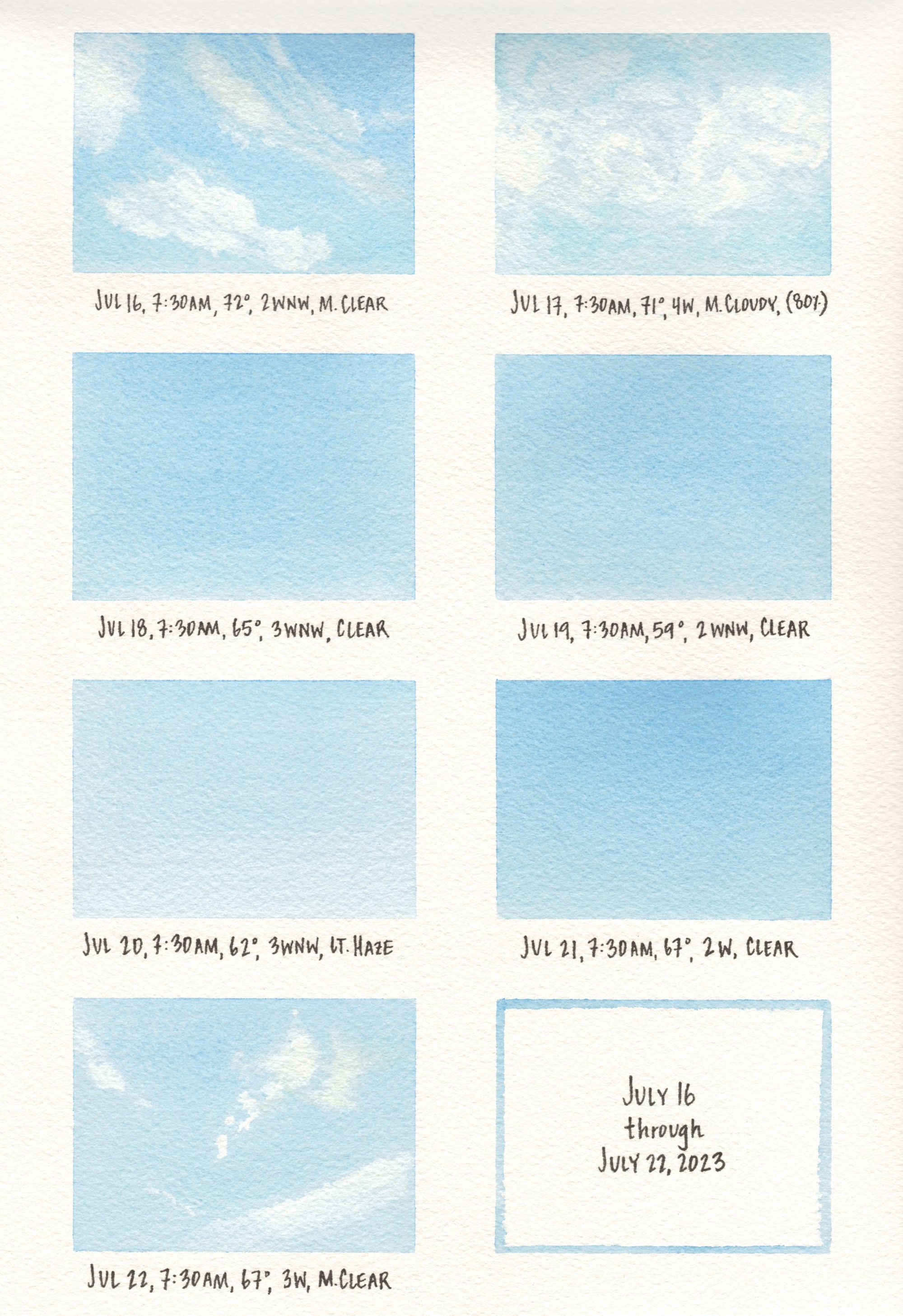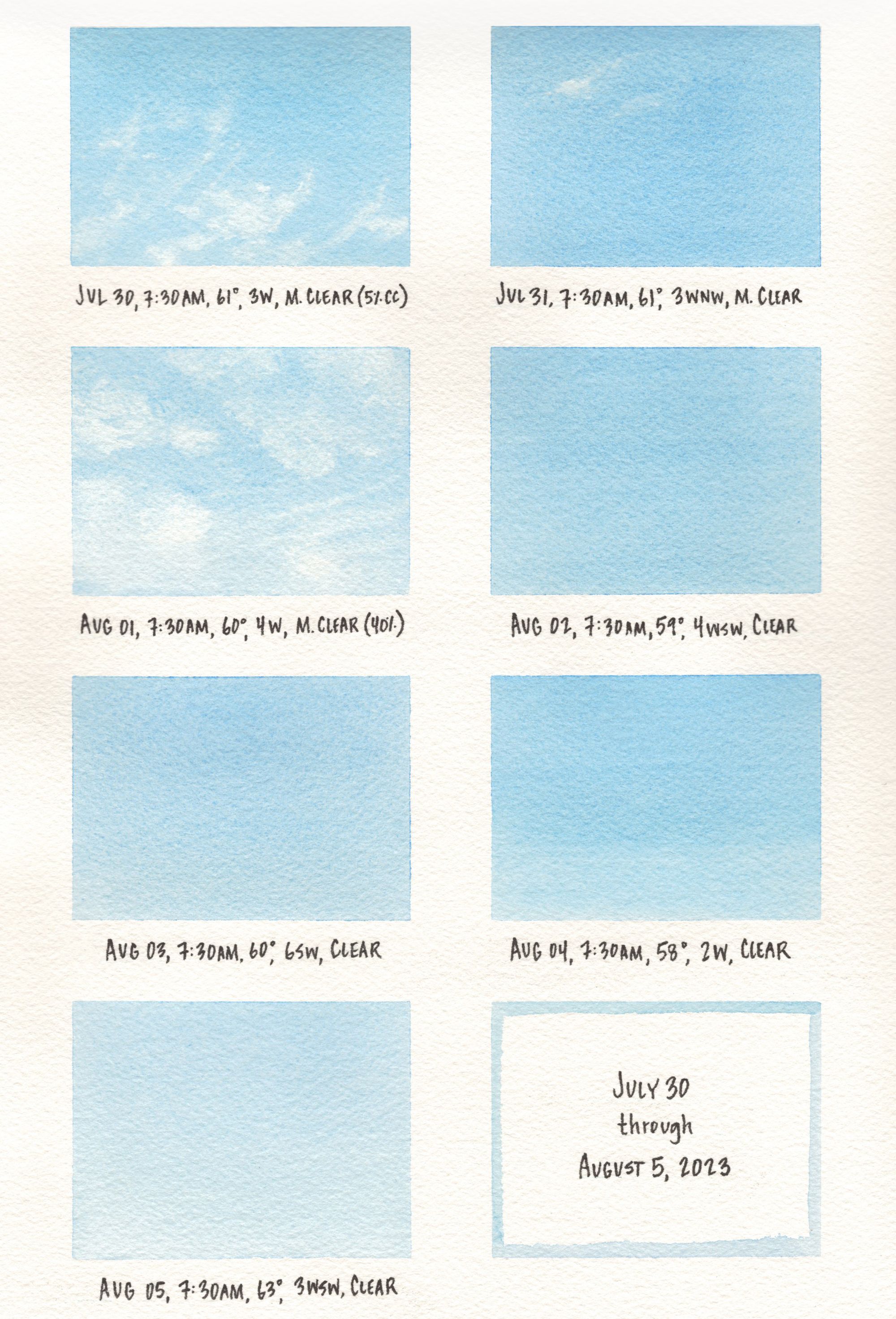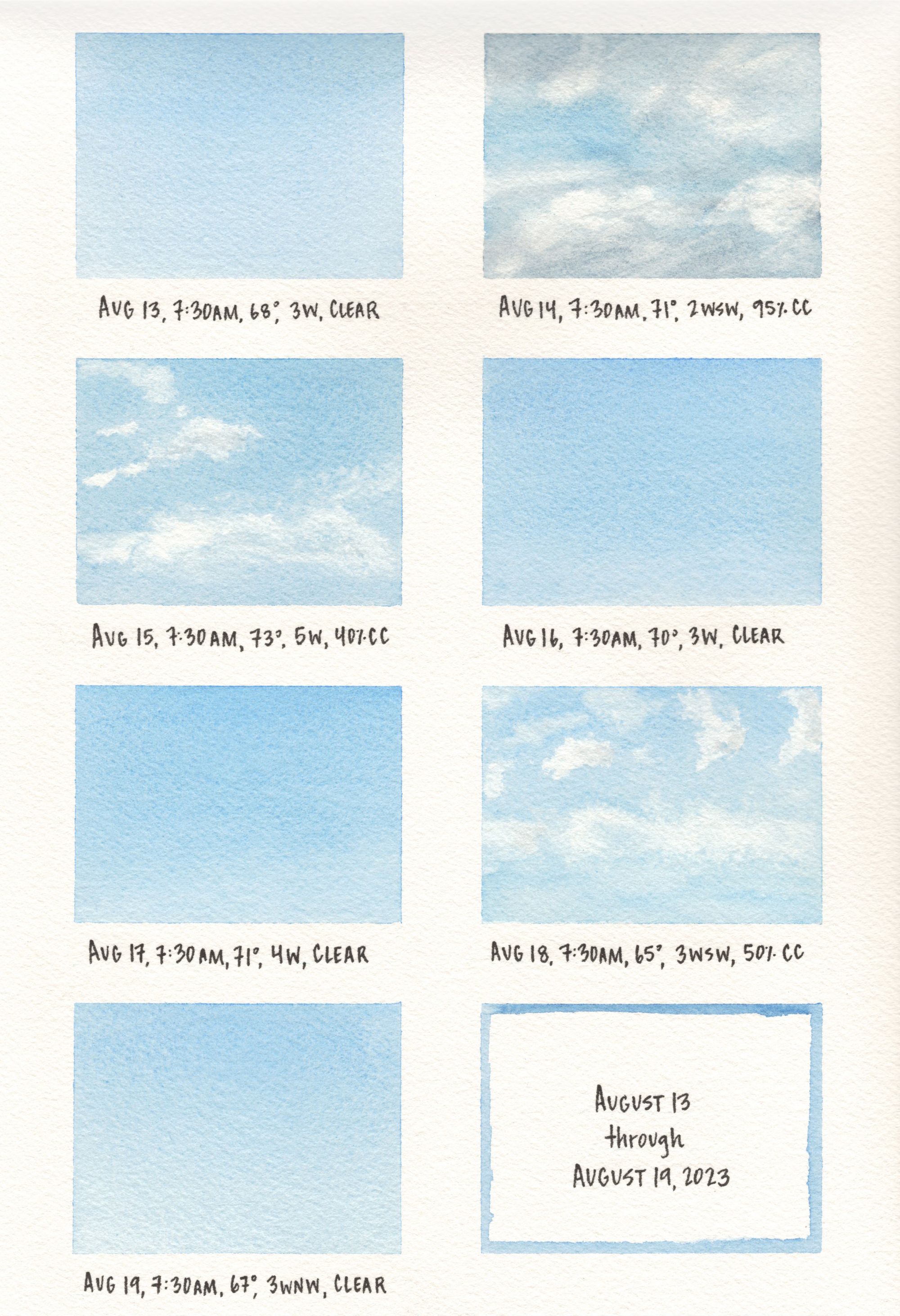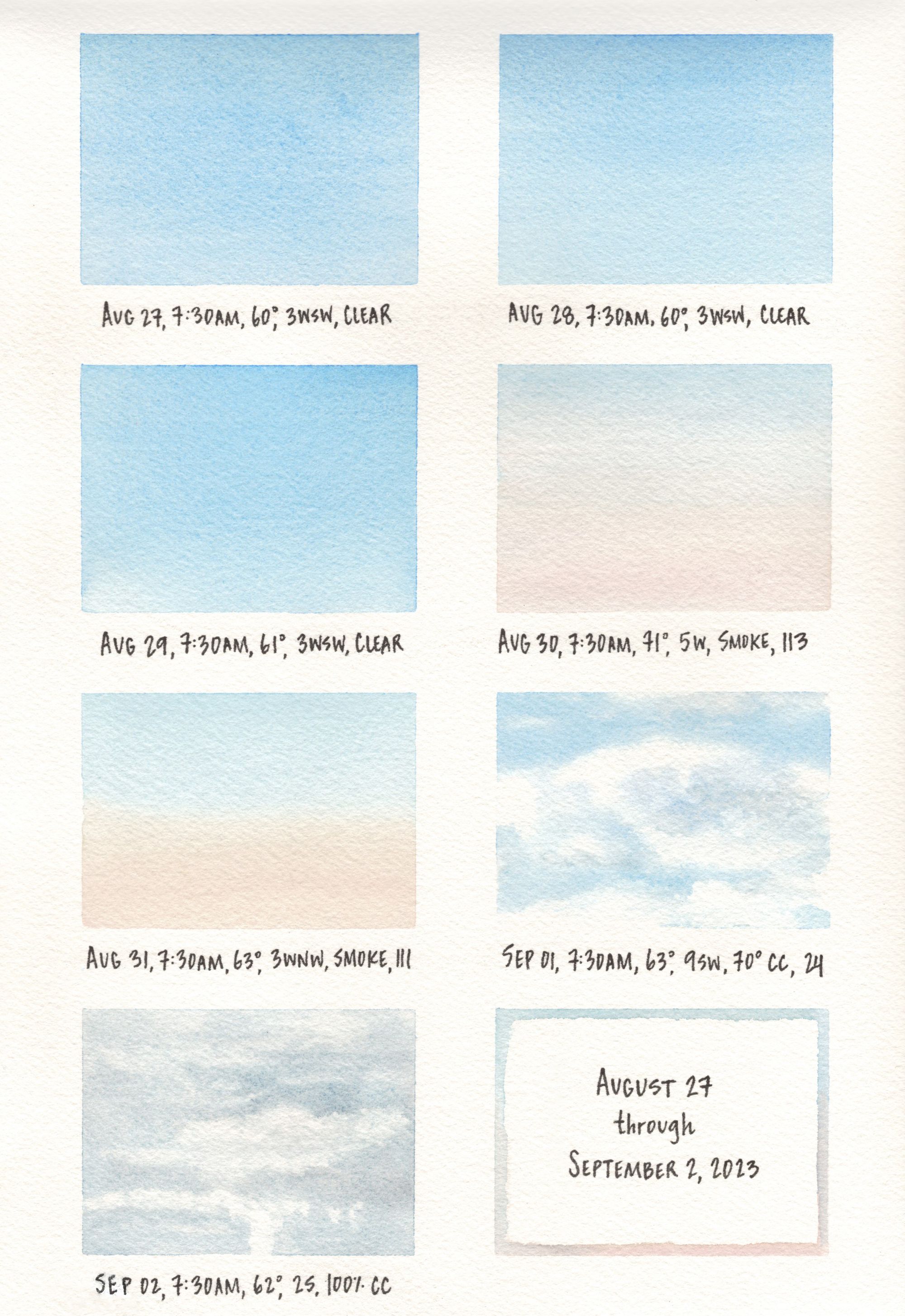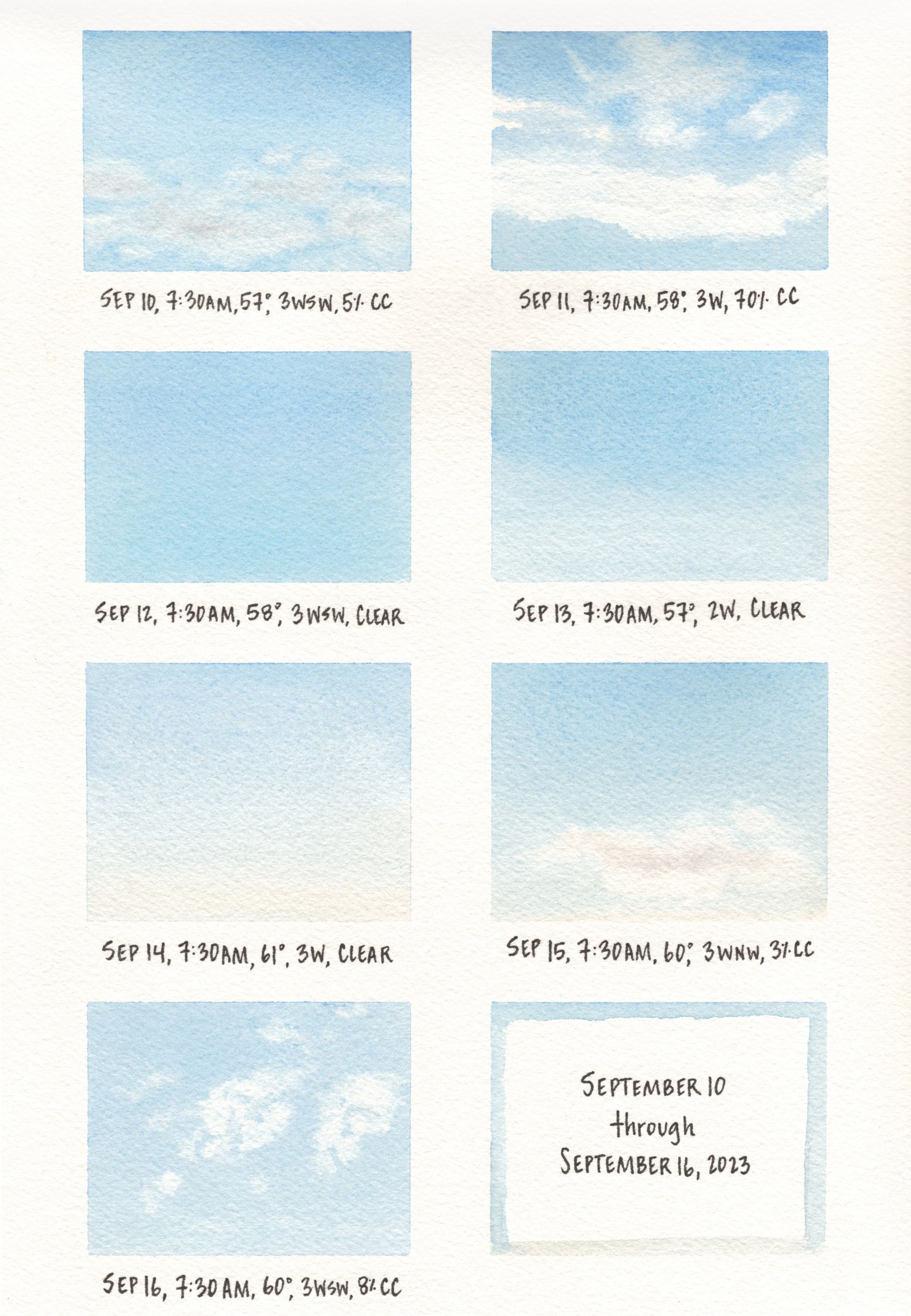 Updates

09/23/2023: Wildfire smoke took center stage during a recent trip to Costanoa, causing me to turn to Quinacridone Gold and Pink.
09/10/2023: August 30th and 31st found me using Quinacridone Gold for the first time during this project to illustrate smoke from northerly fires which had made its way to our town. The average air quality as measured by the Air Quality Index (AQI) is usually in the high 20s in Discovery Bay, but the smoke caused our AQI to rise to just over 113 and 111, respectively, until some well-timed rains and winds swept them away.
08/20/2023: Clouds are appearing more frequently and the horizon is becoming gradually lighter.
08/05/2023: I noticed deeper blues during our recent trip to Mammoth Lakes (July 24-29, 2023). I wonder if this was due to higher altitude or cooler temperatures (high 50s (Fahrenheit)).  
07/14/2023: Earlier this month I officially hit the halfway mark with my 365 skies project! Some light, wispy clouds and plenty of blue. Temperatures have been notably volatile.
06/12/2023: The last gasps of cool weather before the heat of summer? Not quite. The weather has been cool, cloudy, and clean with sporadic bursts of humidity.
05/17/2023: I tested a new technique for painting the 2/3 moon using my non-photo blue mechanical pencil as a light outline paired with a light scrumbling of white colored pencil for some wax resist. It helped me maintain the basic shape, and next time I think it will work better if drawn either more faintly or erased slightly.
04/19/2023: The morning sky at 7:30 a.m. no longer exhibits a warm glow along the horizon as the days become steadily brighter. Now, instead of turning to Buff Titanium to dab in some warmth, I find myself mixing cobalt blue with cobalt turquoise (a new-to-me color by Schmincke).  
03/27/2023: The first day of spring arrived on the back of rainclouds. More storms to come (another atmospheric river projected to land tomorrow).
03/05/2023: February brought colder weather and snow to portions of California where snow typically doesn't fall. We're noticing signs of spring but are wondering if migrations of barn swallows (among others) might be delayed.
02/12/2023: January was an interesting month. I live in California and we experienced the worst storms I've ever encountered with atmospheric rivers, catastrophic flooding, and extreme winds. I was truly grateful to have had shelter from these intense storms.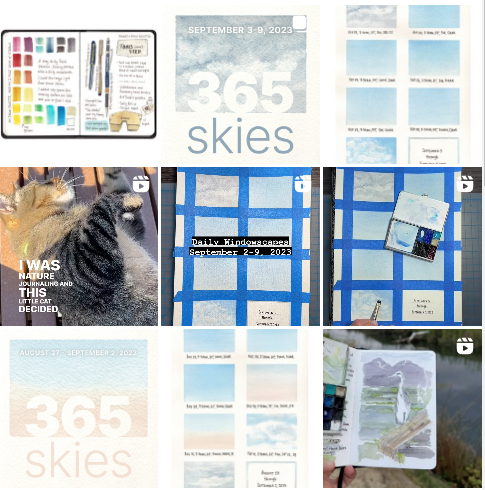 Mindset, art, and journaling.
Weekly inspiration and encouragement for living a more intentional life.
Subscribe for free