365 skies
Follow along as I paint a windowscape each morning for a year. I share tips and insights about what I learn along the way.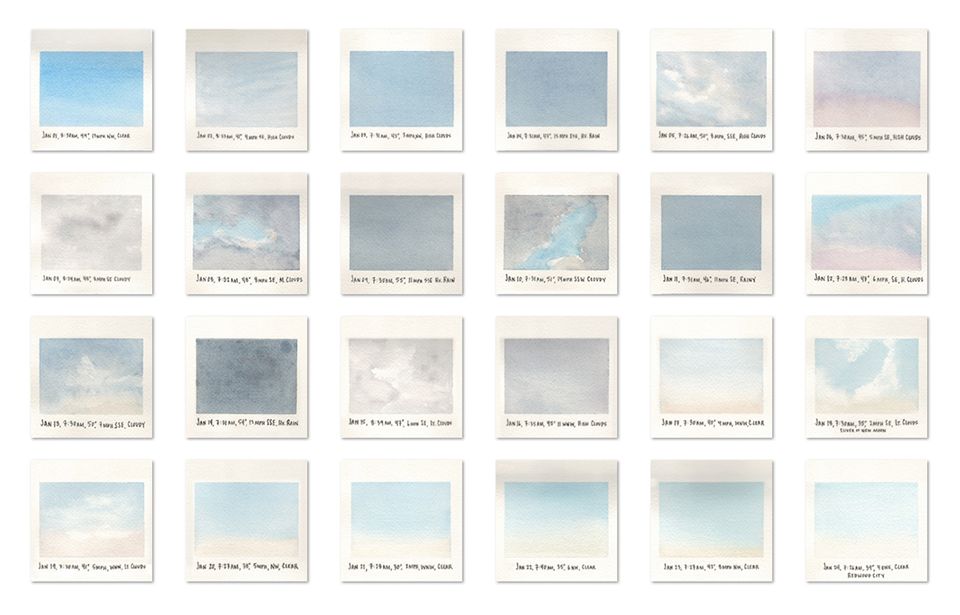 Last updated 03/20/2023
I began painting windowscapes (aka "skyscapitos", or mini skyscapes) in late October 2022 and enjoyed the process so much I decided to commit to painting a windowscape each morning throughout the entire year of 2023. That's 365 days of skies! ⛅
I post handy references and completed pages and updates here on an ongoing basis. Be sure to bookmark this page if you'd like to follow along.
I also post live painting sessions, masking sessions, and videos about windowscapes on my @brookenoticed Instagram account if you'd like to follow along there.
---
Overview

What are windowscapes?
Windowscapes are a small snapshot of the sky and help us scale down something as vast as the sky into a far more approachable subject. They're a great way to observe nature intentionally and notice patterns over time. They also provide an opportunity to nature journal during a portion of the day when you might not be able to get outside or wouldn't otherwise have enough time available.
My process
Each morning at 7:30 a.m., I paint the viewable portion of the southern sky from my drawing desk and record weather data for each day. My weather data includes the date, time, temperature, wind speed, and conditions (e.g., cloudy, rainy, clear) for the time observed. I log this on a spreadsheet I've printed out and keep in the cover of my watercolor block.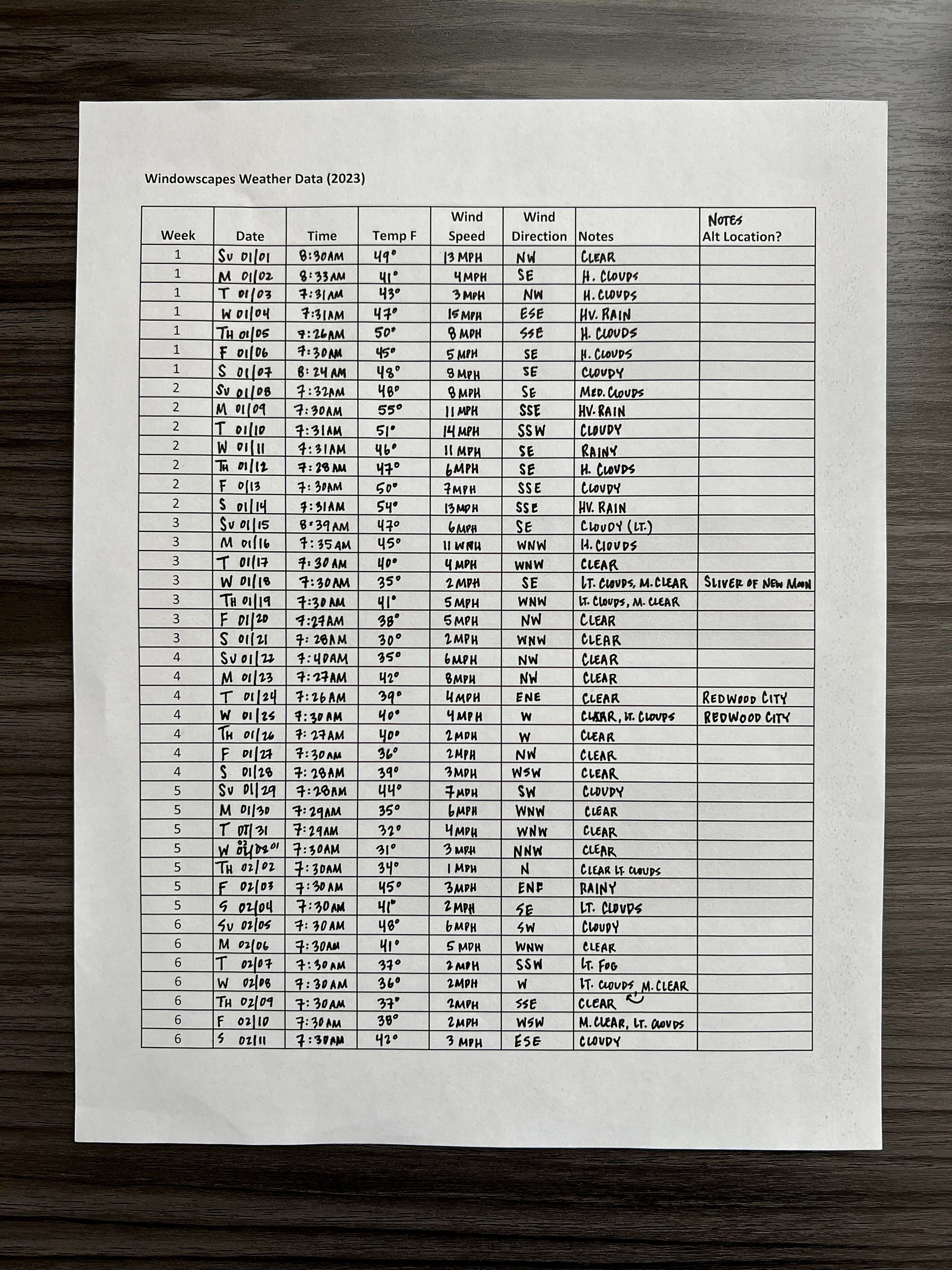 Since it's much easier (and faster) to fill a 3x2-inch frame than a 12x9-inch frame, I limit my windowscapes to ~3x2 inches and fill the entire 3x2-inch frame with what I observe in the sky in that moment. The full process takes me ~5-10 minutes total. This makes it super easy for me to continue to maintain this habit each day no matter how busy things might become.
At the end of each week, once I've finished another page windowscapes, I remove the masking tape and write in the weather data for each day.
Extra step: I like to have a digital archive of my windowscapes to reference and share, so I scan each page and then format the digital file in two ways: 1. full page mode (pictured below) and 2. single day mode (each day gets its own image file).
---
Resources
My windowscapes weather data template. I print this and add to it each day. It's formatted with 6 weeks-worth of rows to write in your weather data. Once I remove the masking tape from of week of windowscapes, I reference this log to write my data under each windowscape entry:
---
Windowscapes archive (01/01 - 03/11/2023)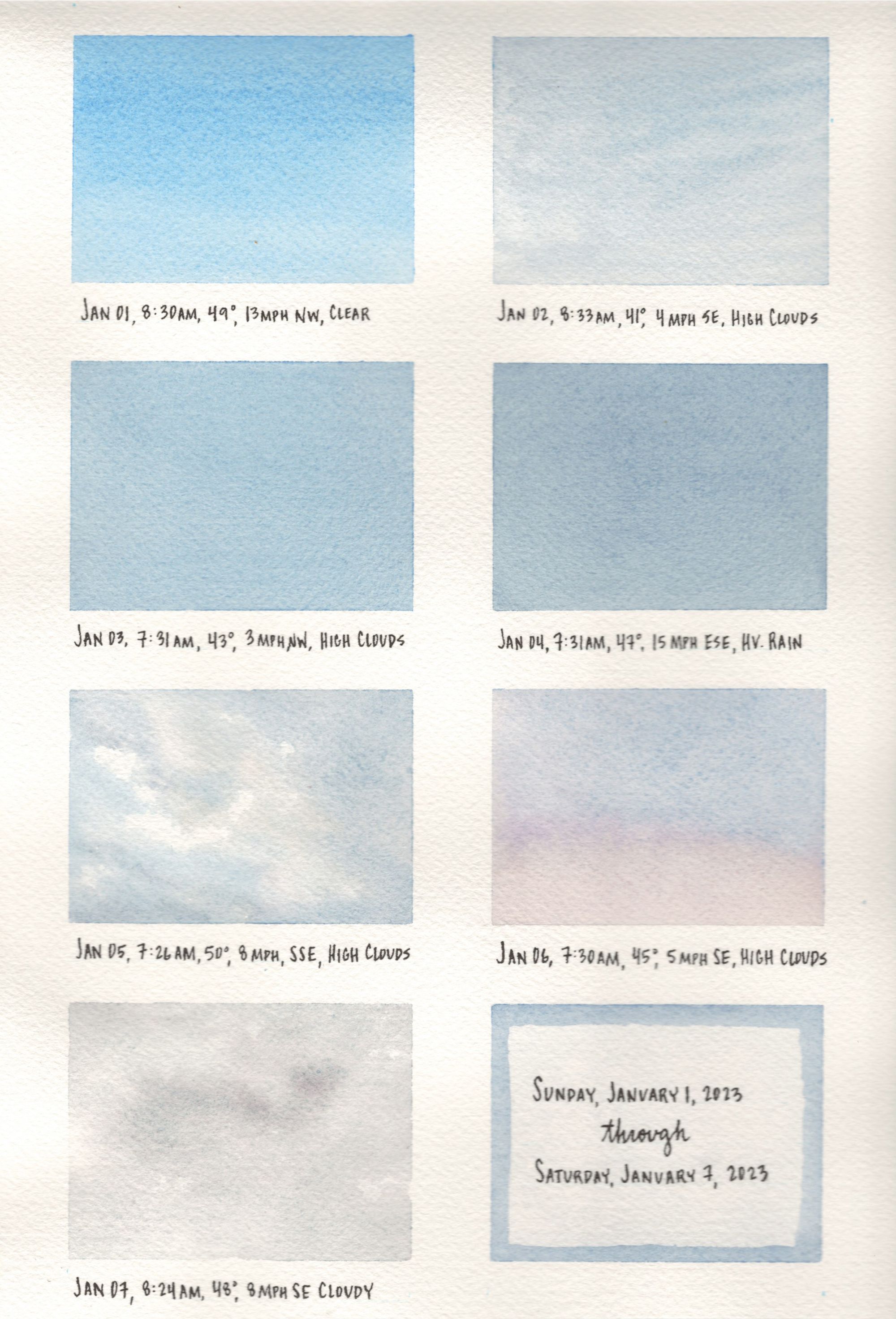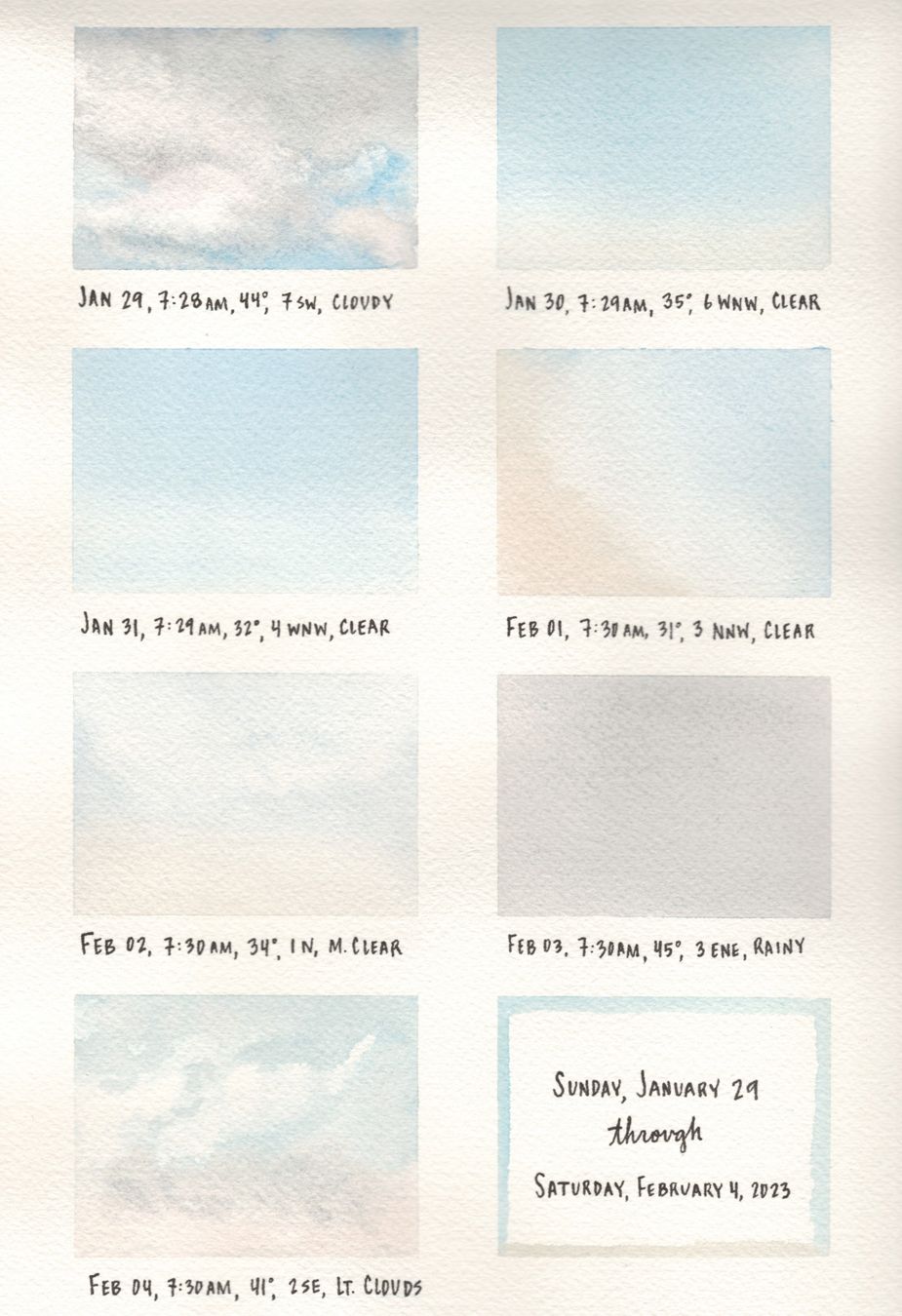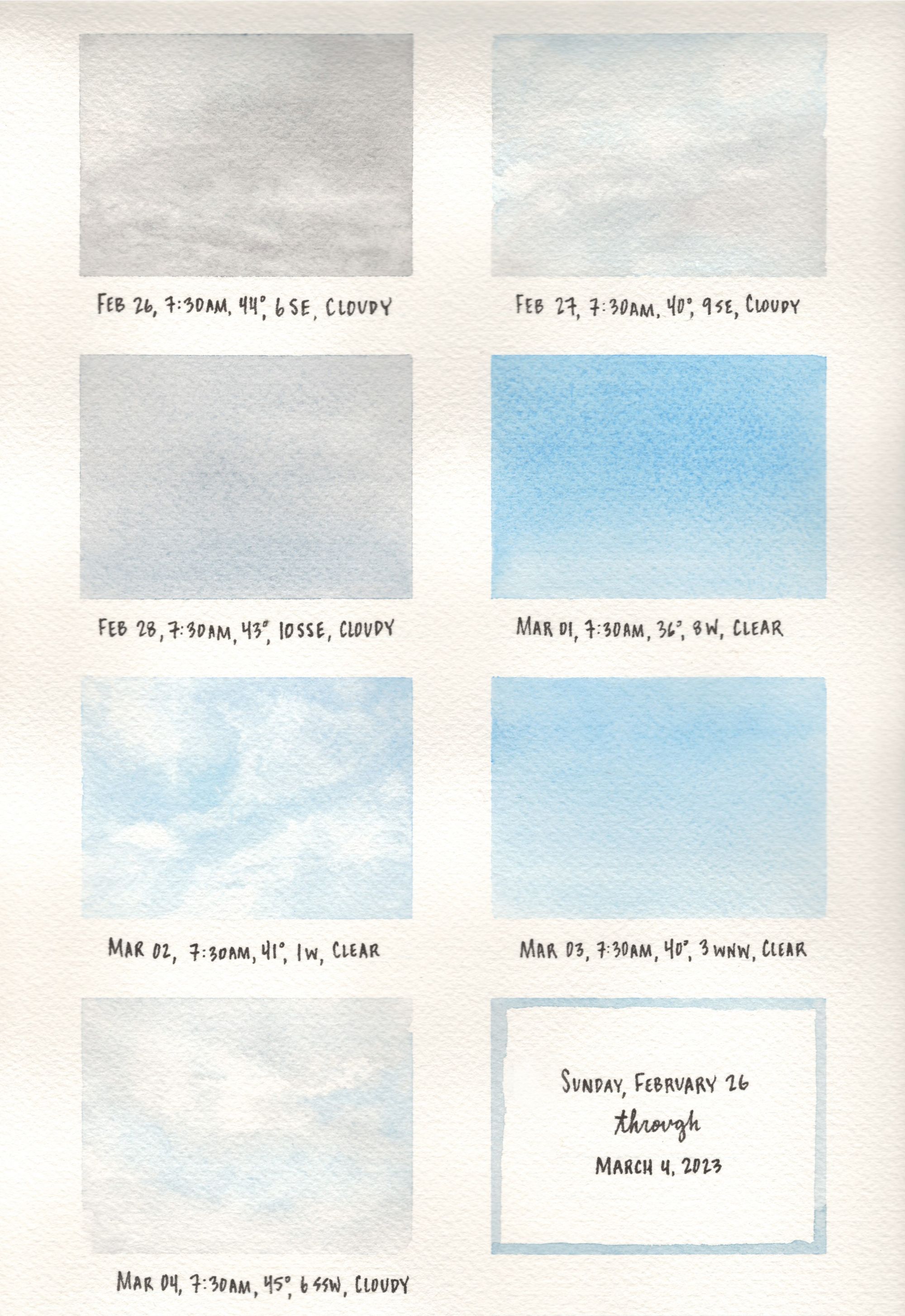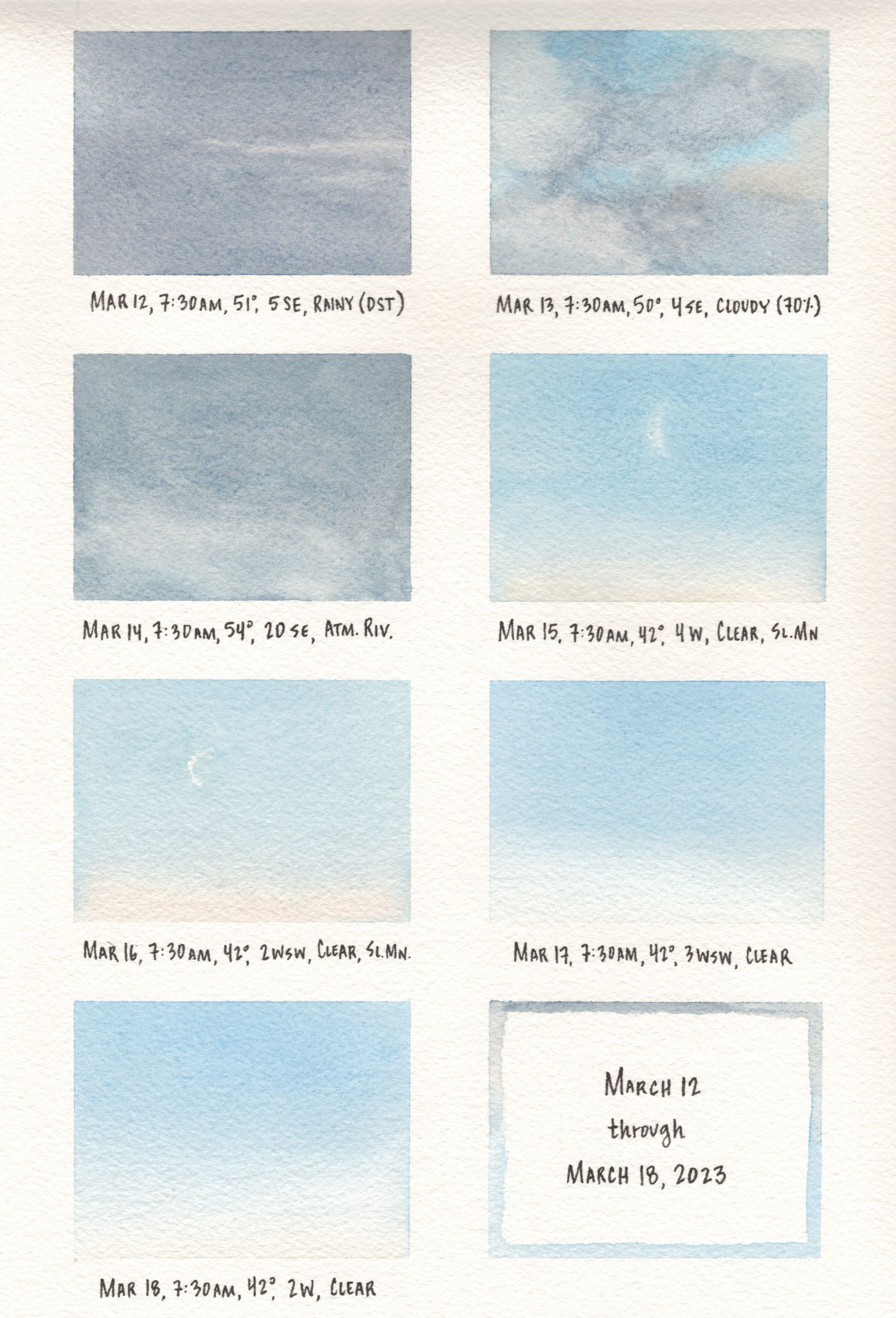 Updates
03/05/2023: February brought colder weather and snow to portions of California where snow typically doesn't fall. We're noticing signs of spring but are wondering if migrations of barn swallows (among others) might be delayed.
02/12/2023: January was an interesting month. I live in California and we experienced the worst storms I've ever encountered with atmospheric rivers, catastrophic flooding, and extreme winds. I was truly grateful to have had shelter from these intense storms.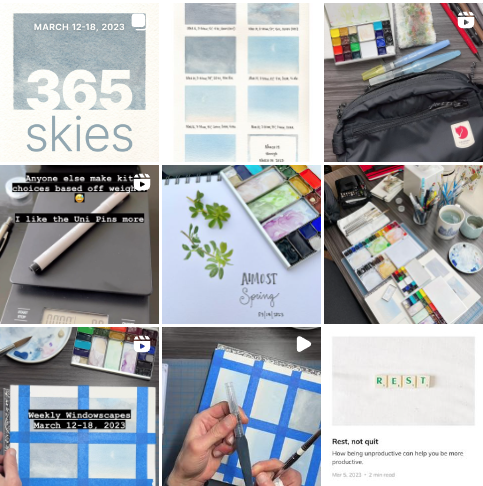 Mindset, art, and journaling.
Weekly inspiration and encouragement for living a more intentional life.
Subscribe for free