Head in the clouds with skyscapitos
Got a few minutes? Skyscapitos are an easy way to get your head in the clouds and connect with nature.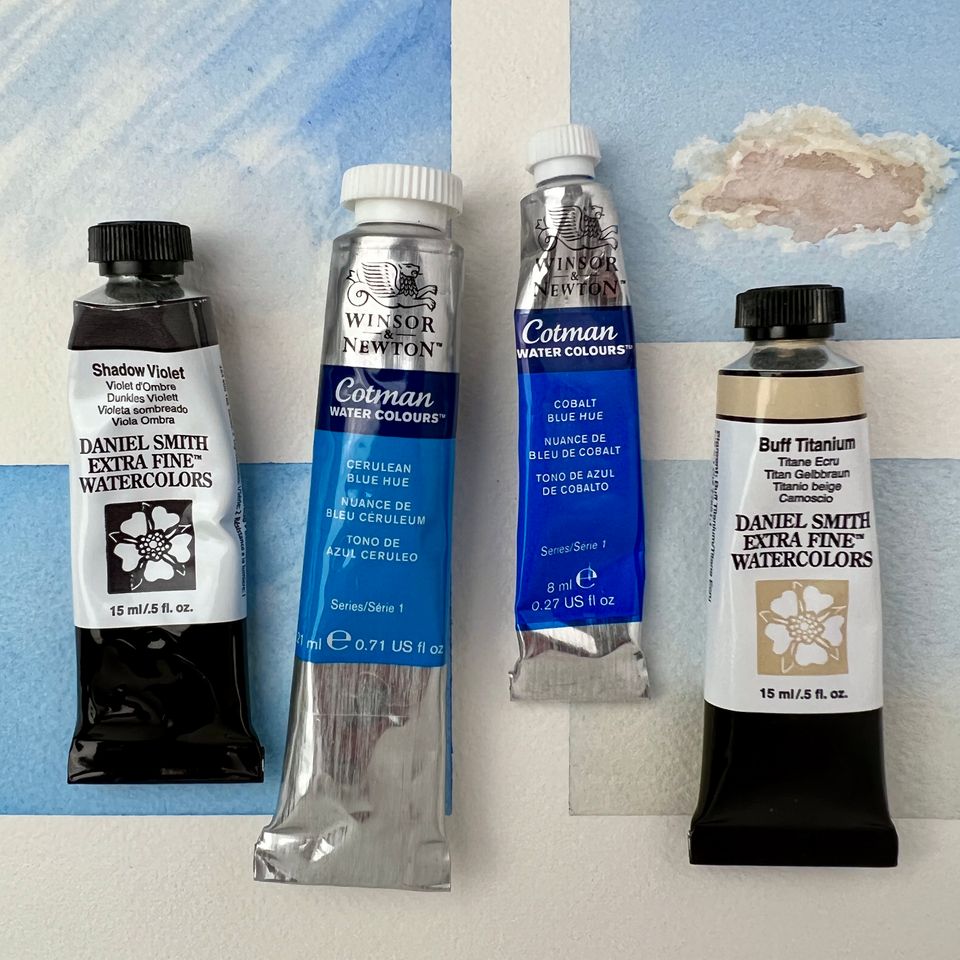 I've begun painting skyscapitos – mini skyscapes. I don't know why it took me so long to start painting skyscapitos, but now that I've painted several, I'm hooked.
Skyscapitos are a delightfully simple way to connect with nature. Painting them has been so easy, in fact, it took hardly any tweaking to incorporate the practice into my daily routine. Painting the sky has become a meditative way for me to notice nature, dab at my watercolors, and get lost in the clouds for a few minutes each day.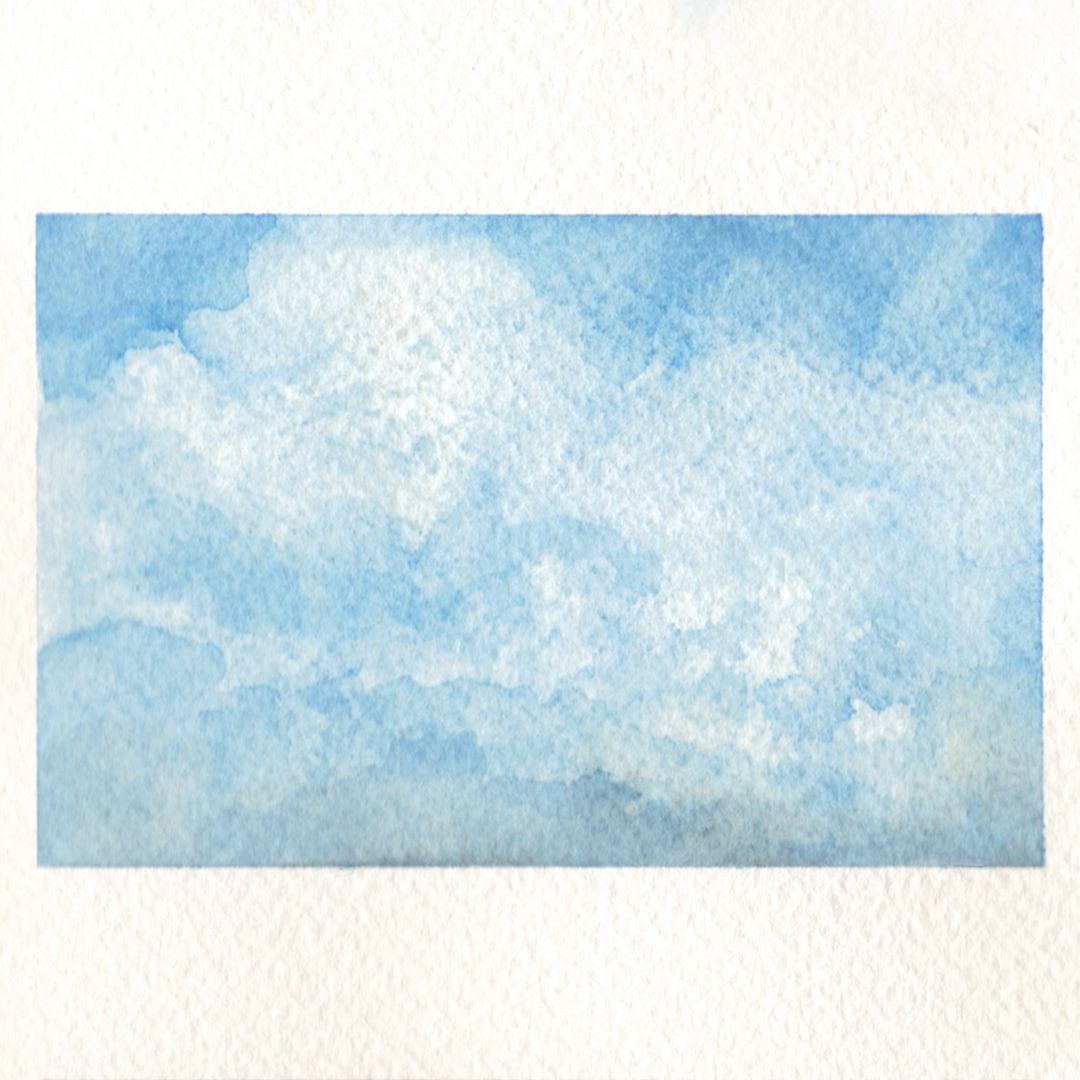 Skyscapitos in a nutshell
Think of a skyscapito as small snapshot of the sky. It can feel daunting to fill an entire nature journal page with all the details of a large scene. Skyscapitos (like landscapitos) help us scale down a subject as vast as the sky into a far more approachable and manageable study. It's much easier to fill a 3x2-inch frame than a 12x9-inch frame.
For my daily skyscapitos, I try to observe and paint the sky from the same vantage point at about the same time each morning, with some exceptions. One day, I painted the sky twice as a rainstorm rolled in (once in the morning and once in the afternoon).
My window serves as my viewfinder, and I paint the patch of sky visible from my desk. I limit my skyscapitos to approximately 3x2 inches and fill the entire 3x2-inch frame with the gestalt of the sky in that moment.
Each day, I paint one frame and then add simple notes next to it with details such as the date, time, temperature, and wind speed during the time observed. Keeping my skyscapitos simple has allowed me to nature journal during a portion of the day when I might not have otherwise had enough time available.
Getting started
I've found it easiest to set-up my skyscapitos in batches ahead of time so I can go straight into painting them each morning.
When I first got started with skyscapitos, I missed a few days because I didn't have my next template ready and wasn't able to format another sheet right away.
An important component in building a habit is to make whatever you'd like to do easy to do (or, conversely, to make whatever you'd wish to stop harder to do).
Since I am enjoying the morning dose of mindfulness I experience when I paint skyscapitos, I am in the process of turning the practice into a daily habit. To do this successfully, I'm doing whatever I can to make the process as easy as possible to reduce any potential barriers to getting started.
Page layout
Prepping my skycapito template ahead of time once per week has made the daily painting process much easier. I now batch format my skyscapitos in 8-day blocks. Each day is approximately 3x2 inches Here's my page layout: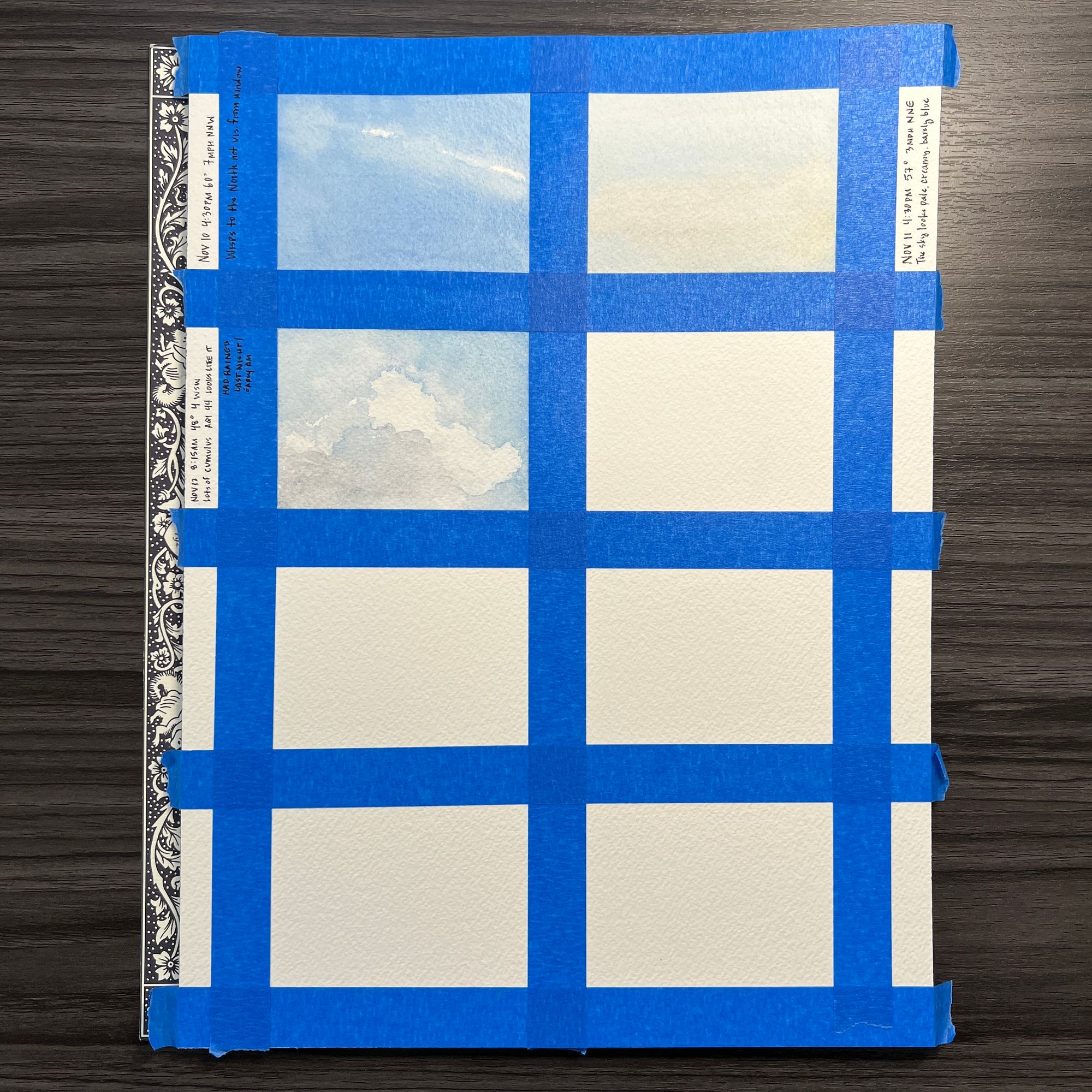 Masking Guides
Once I measured and figured out what my masking dimensions needed to be, I made a handy reference guide in the cover of my watercolor block with marks indicating where to place my masking tape with future pages. No need to reinvent the wheel each time. When I'm ready to start a new page, I just match up the lines and put down new tape: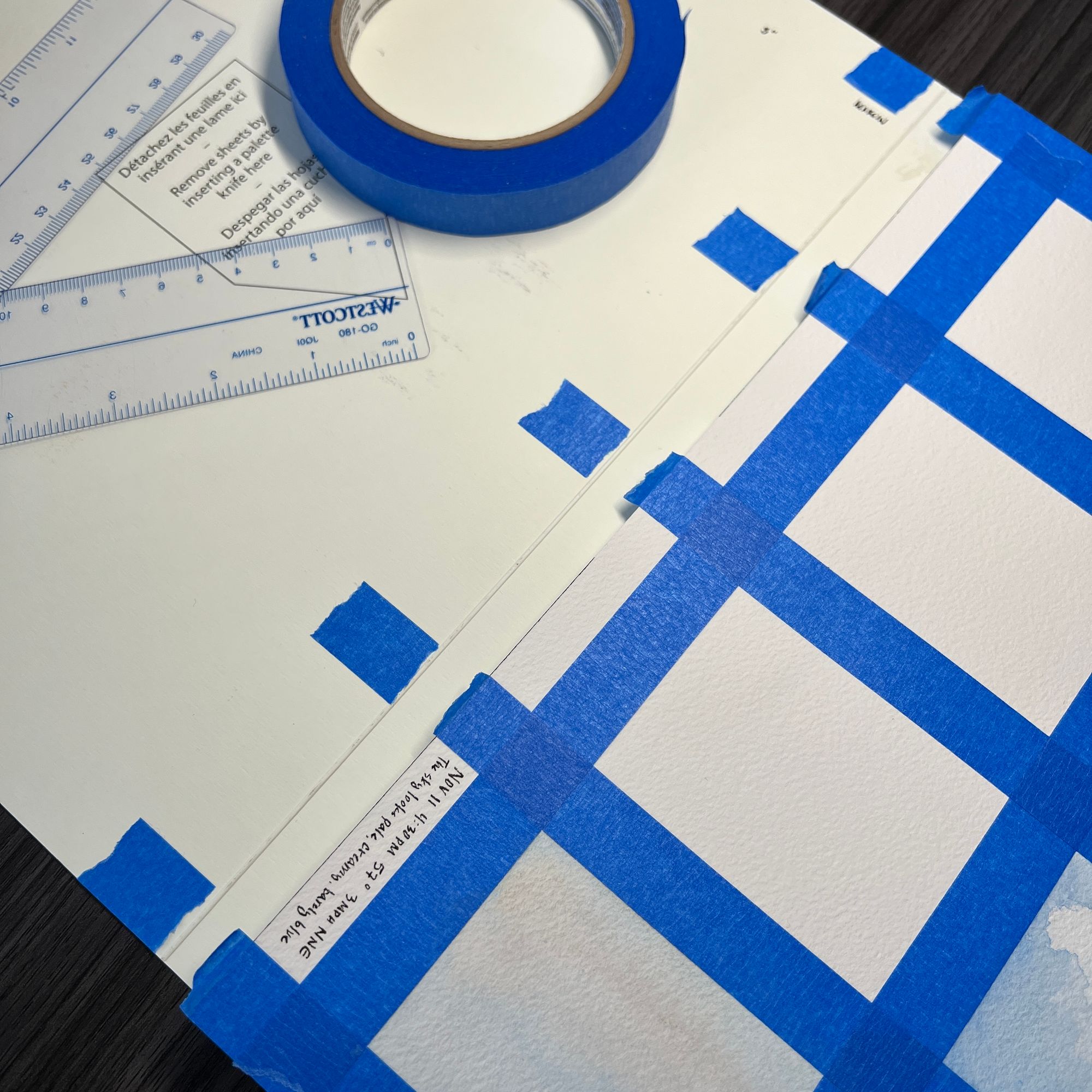 Supply notes
You don't need watercolor supplies to create a skyscapito. I've seen others create amazing skyscapitos using nothing but a simple pencil or pen. Some nature journalers enjoy including skyscapitos into their nature journals as a small call-out to remember how the weather was while journaling about something else entirely. Use what works best for you and experiment with new methods to see what you like!
For those interested in the specific supplies I'm using and how I set up my skyscapitos, I've included more details below.
Please note, as an Amazon Associate I earn from qualifying purchases if you decide to buy anything using any of the Amazon links below:
Masking Tape (Painter's Tape)
You can draw a simple box for your skyscapitos if you'd like to skip the masking process altogether. If you're drawing just one skyscapito on a page with many other subjects, I'd suggest skipping the masking tape altogether.
I use tape in my example here as I am painting many skyscapitos on the same page and wanted to fully saturate the entire frame for each study while still maintaining a crisp edge.
I've heard others report of using off-brand masking/painter's tape that ripped their art paper. 😭 I'm using 3M's brand of painter's tape (#2090 at 3/4-inch) and it's hasn't ripped my paper and leaves clean lines. Please note you should always first test any tape you plan to use on a swatch of paper before you use it use it on a page you care about. 3M also states to remove the tape within 14 days.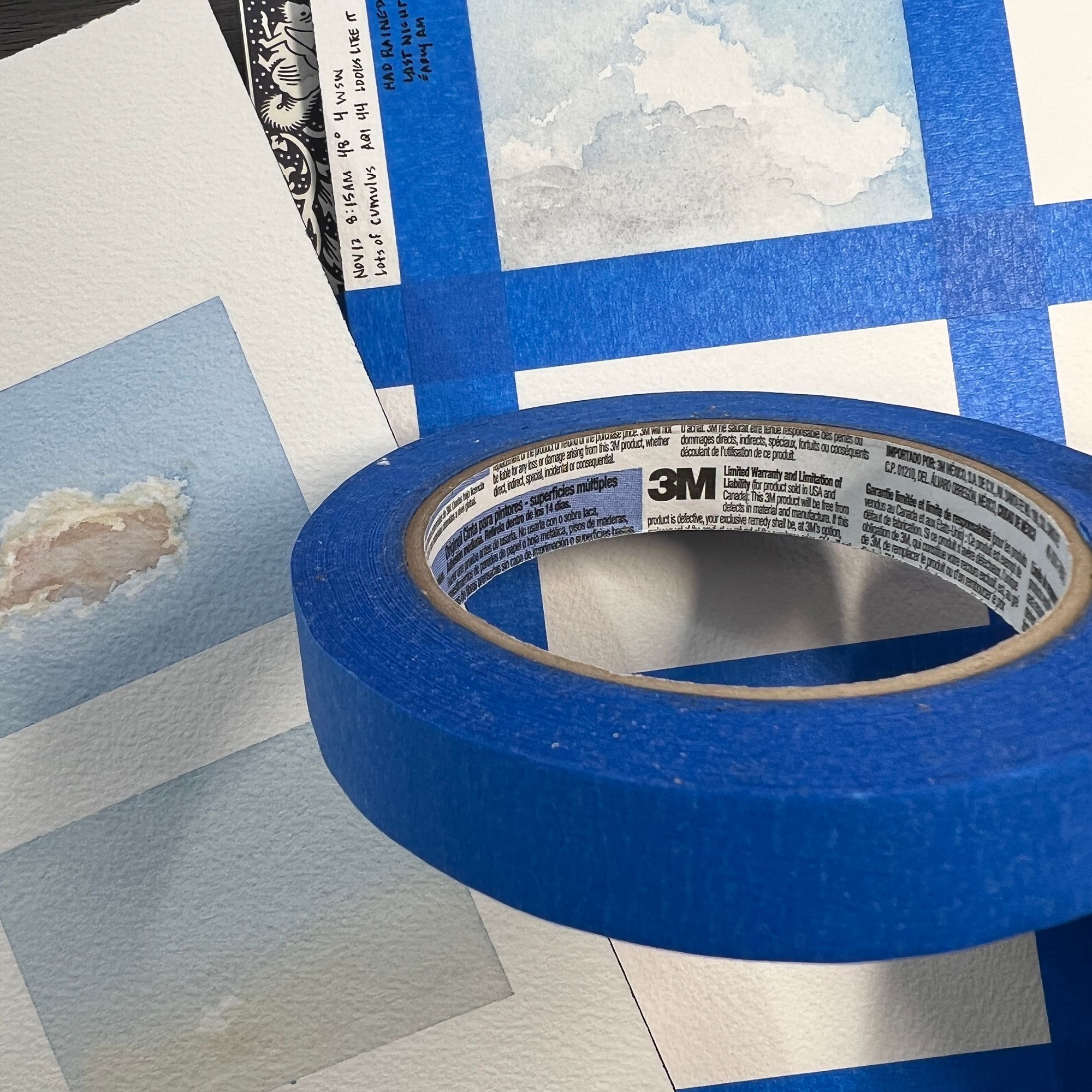 Paper
I experimented with a couple types of paper for my skyscapitos and am finding this Arches Cold Press Watercolor Block (a cherished Christmas gift from last year) to be my favorite as it can take a lot of water without deteriorating and warping. While it's a bit on the pricier side, it's a solid option. This isn't my everyday paper but is nice to have around for projects like skyscapitos: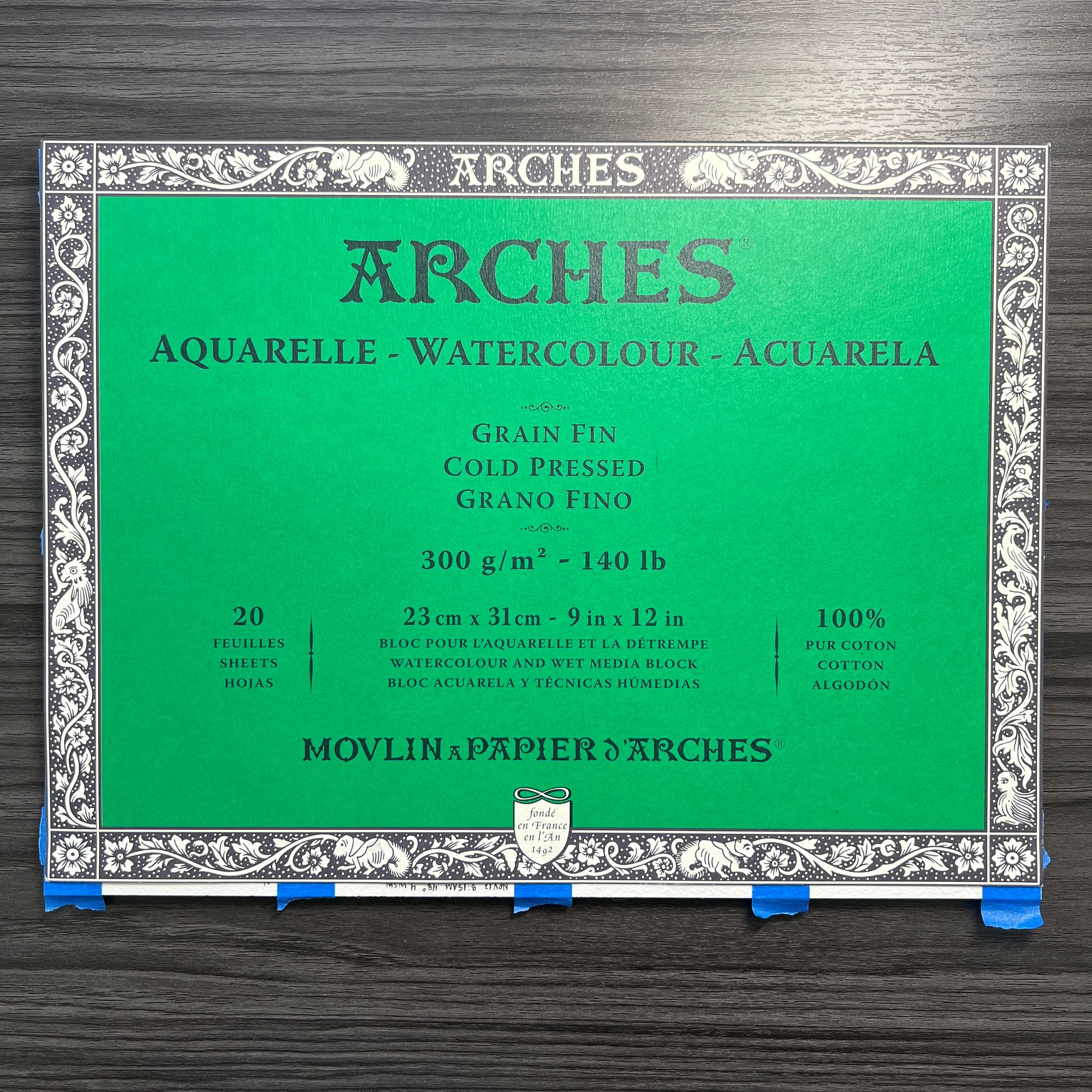 Watercolor Paints
I'm finding Winsor & Newton Cotman's Cerulean Blue Hue and Winsor & Newton Cotman's Cobalt Blue Hue to mix play nicely together, producing a beautiful sky blue akin to what I'm observing outside my window. Shadow Violet by Daniel Smith has worked well for rain clouds and the details on the bottoms of some types of clouds, and Buff Titanium by Daniel Smith has been a helpful shade for warmer, lighter, sunnier hues.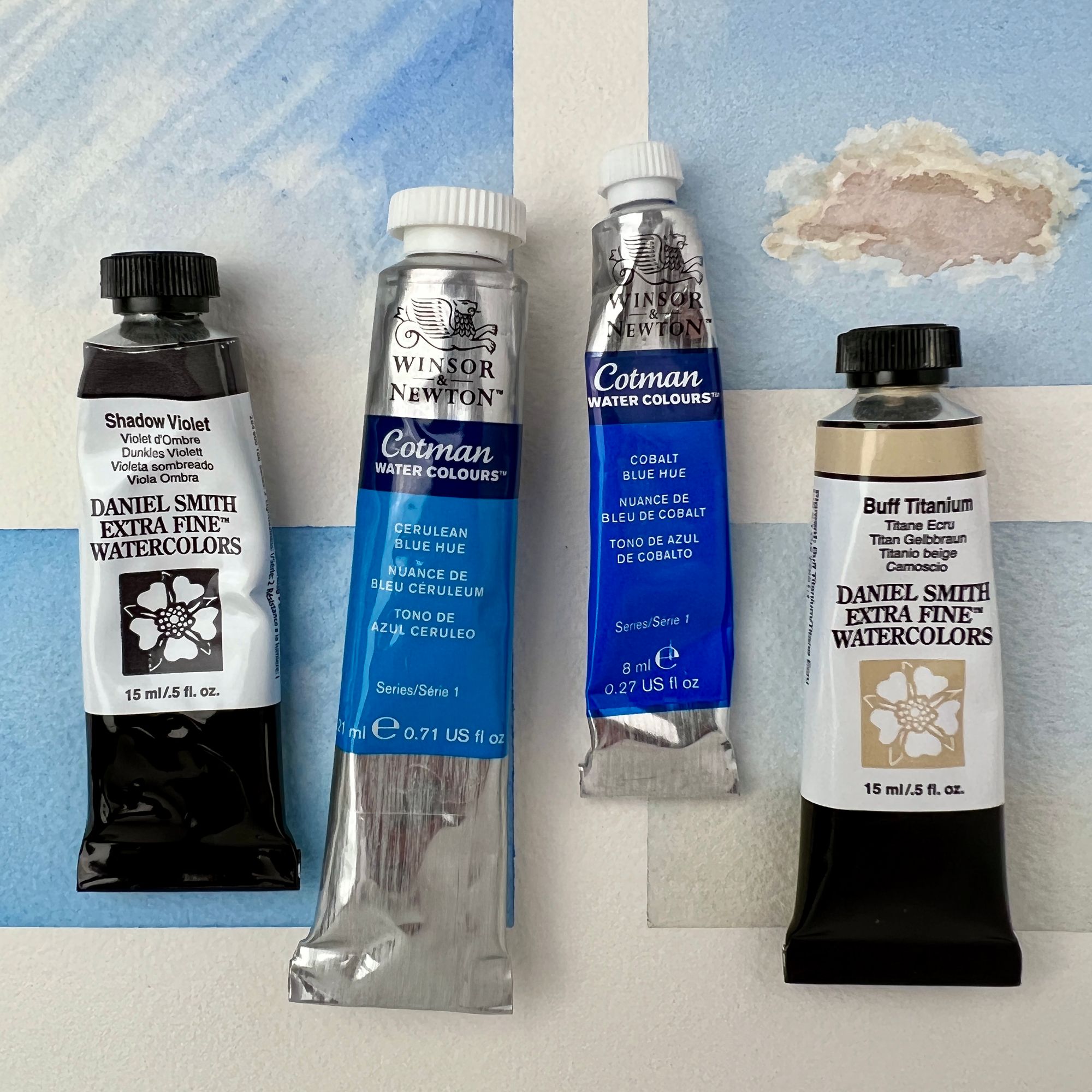 Zooming in
Skyscapitos are an excellent example of how we can turn a daunting task into something manageable if we are willing to change how we approach a task. If you've ever heard the saying, "How do you eat a whale? One bite at a time." this same concept applies to many other areas of life.
What are some other ways we might apply this concept?
Zooming out
Consider a day-long study of the sky or breaking a large span of the sky into several small skyscpitos on one page like panes in a window frame.
Skyscapitos can be a fun way and simple way to get started with your nature journal and reconnect with nature by being present with the world around you.
Oh, and slowly peeling off all that tape once you've finished? So satisfying.