Under the 'whether'
Has your inner artist been feeling under the weather lately? Here's why too much 'whether this' and 'whether that' might be causing decision fatigue and draining your creativity.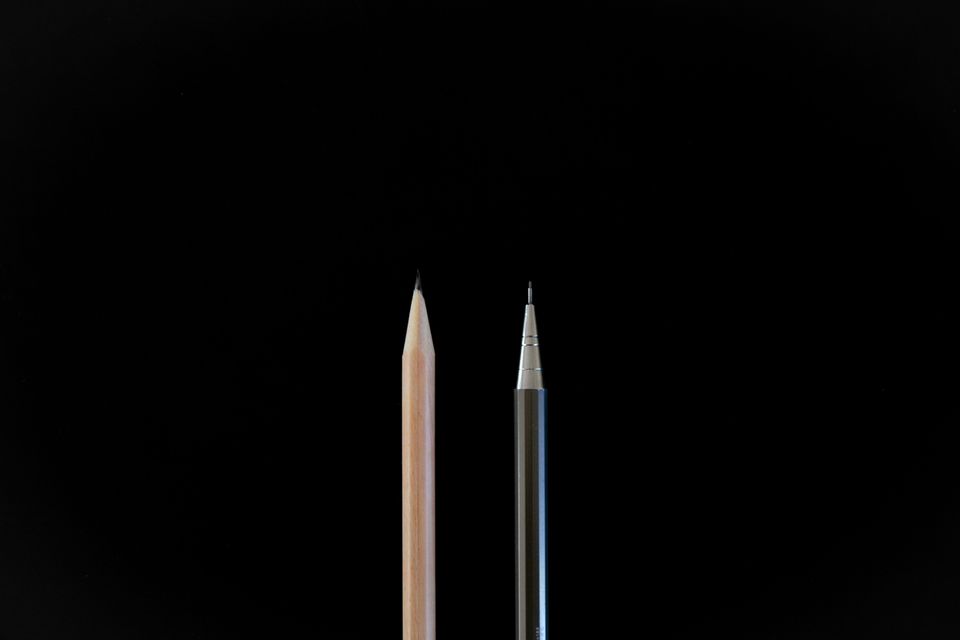 I've been under the weather the past few days, struggling to keep up with life's basics while nursing a sore throat and the general lethargy that comes with fighting a virus.
Beating back the blahs has certainly been a challenge, however, it hasn't all been bad: feeling lousy has forced me to simplify my routine so I can allocate more of my resources toward recovery. It's also made me slow down and think a lot more about decision fatigue and how it affects me (and maybe even you) creatively.
What's decision fatigue?
If you're unfamiliar with the term 'decision fatigue', you've likely experienced it at some point. In a nutshell, decision fatigue is that feeling you get when you've made so many decisions in a day, that by the end of the day, making even tiny decisions can feel like summiting Everest.
It's estimated we make over 35,000 decisions per day (~227 of which are about food alone, and for me, ~442 of which are about selecting art supplies). By the end of the day, once we're on the other side of the bulk of those 35,000 decisions, our brains are tired and ready to slide into autopilot, deteriorating our judgment and making us a lot less effective at making good, successive decisions.
Why I need to prioritize making 'making' easier.
For me, I tend to face decision fatigue just as I'm beginning my wind-down routine most evenings...which just so happens to be when I sit down to work on my art. I plan to continue to work on my art at night, but I'm noticing I spend a significant portion of my art time making decisions about art instead of just making art.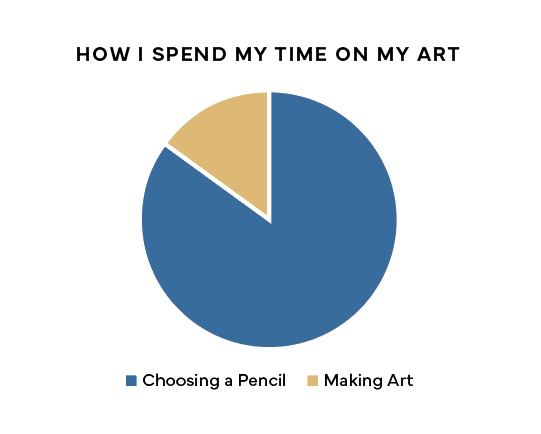 Ideally, I'd like to have more to show for myself at the end of these creative meanderings, but imagine the friction I create just trying to choose which type of paper and, ahem, "drawing instrument(s)" to use.
My typical creative evening goes something like this:
I decide whether I should sketch in my journal or on loose-leaf paper.
I decide whether I'll want to add color to my drawing later, so...
I decide whether I should use mixed media paper or watercolor paper.
I decide whether I should sketch with graphite pencil or ballpoint pen...
...or Uni-ball pen...
...or Micron pen...
...or fude nib fountain pen...
Me: "For crying out loud, just pick a pencil and move on..."

Also Me: "Okay, okay...pencil it is. Wait..."
I decide whether I should use a standard pencil or a mechanical pencil.
I decide whether I should use 0.3 or 0.5 lead...
...or 0.7 lead...
...or 0.9 lead...
...or non-photo blue lead...
Me: "Now, what shall I draw?"
The result of all this agonizing? Just like fighting a sore throat has worn down my body, decision fatigue has worn my creative spark down to the nib.
Being under the weather — and under the whether — are both unpleasant, but being mindful of how decision fatigue works and when it's likely to set in can help us take steps in advance to reduce friction ahead of when we know we might need a little help. Planning when you're mentally fresh for when you won't be is like batch cooking for the mind: you're setting yourself up for success for times when making good decisions will likely be more challenging.
Eating my own words.
Moving forward, I'm going to begin experimenting with choosing my art goal for the evening in the morning, well before I sit down to create. To do this successfully, I'll need to be explicit about what I'll draw as well as the supplies I'll use, this way, when I'm likely too tired to run The Zoo of art options which lie before me, I'll already have a plan in place to make the most of my creative spark.
🍦
The Zoo was a 7-pound ice cream sundae at Ferrell's Ice Cream Parlour. It was essentially a trough of ice cream delivered by two people, carried à la Raiders of the Lost Ark-style.

Afterthoughts: I'll be drawing a corn plant with a single, mechanical pencil on Canson Mixed Media paper (loose leaf!) next. I've already made too many other decisions today. How about you?