Geeking outside with nature journaling supplies
What's in my nature journaling bag? My favorite little goodies and nature journaling supplies, including trash bags to help me help the places I love.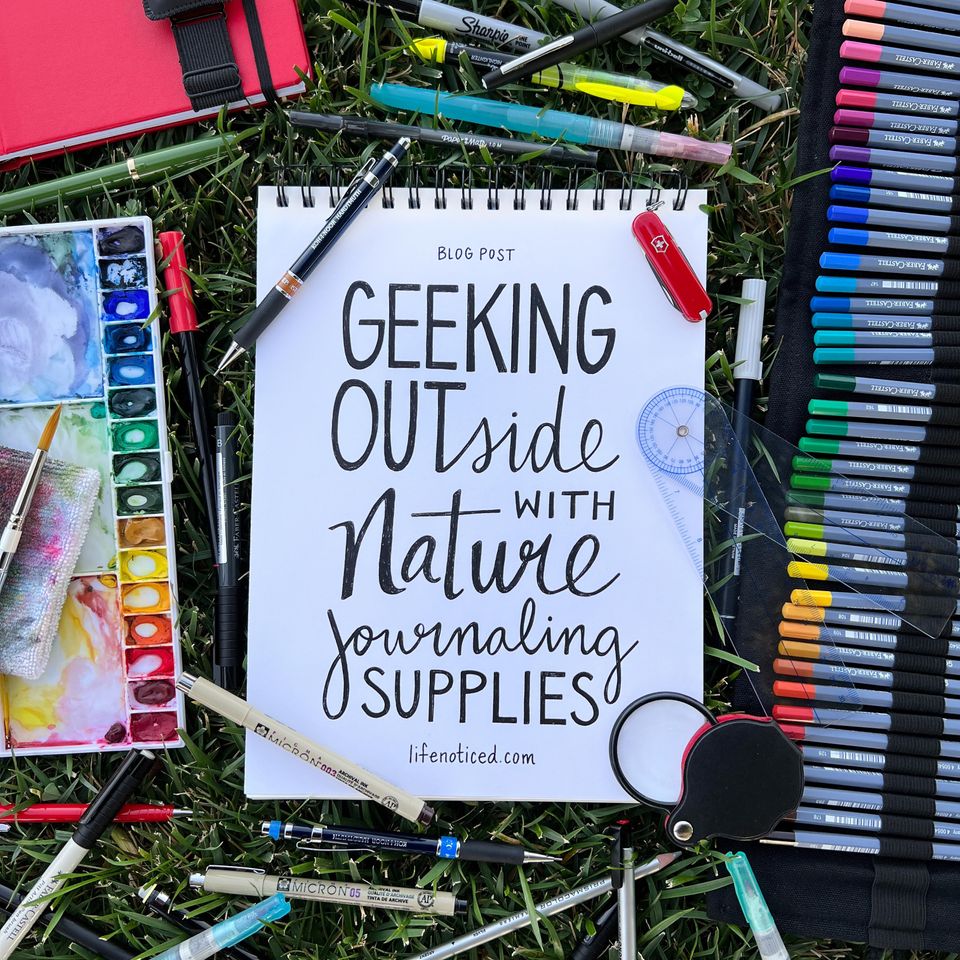 The hottest days of the summer have arrived (108℉ tomorrow, climbing to 113℉ next week, yuck). Smarter people are staying cool indoors, but I feel cooped up and overdue for some quality time in nature with my nature journal.
I've noticed I become quite nostalgic about summer despite the last gasps of intense heat this time of year. It's hot now, yes, but the bite of winter will soon be upon us, and for me, this means a lot less time drawing outdoors.
To be clear, winters are by no means severe in my part of California, but I have an annoying condition called chilblains which causes me to develop sores on my fingers when exposed to sustained temperatures below ~60℉. Wearing gloves helps reduce the severity, but the sores are unavoidable throughout the winter and can only be managed. Sigh. What's a nature journaler to do?
Since drawing outdoors during colder months can lead to downright painful hands, I turn to drawing from reference photos and backyard bird watching through the patio door when temperatures drop, but when it's hot, I try to make the most of my fleeting, glove-free days by getting outside to nature journal in the shade whenever (safely) doable.
Drawing outside during hot weather requires planning ahead. As a rule, I avoid venturing outdoors when the heat is most intense and shoot for mornings and evenings as these dayparts are relatively much cooler. (Please note, if you plan to venture outdoors in warm/hot climates, be sure to abide by any local weather advisories and take precautions to limit your exposure to help avoid dehydration, heat stroke, and other dangerous side effects.)
I've found having a lightweight nature journaling kit which can be quickly assembled and conveniently carried and stashed is paramount to optimizing my time drawing outside, especially on hot days when I have less time on my side. My current nature journaling kit allows me to focus less on set-up and more on observing and drawing.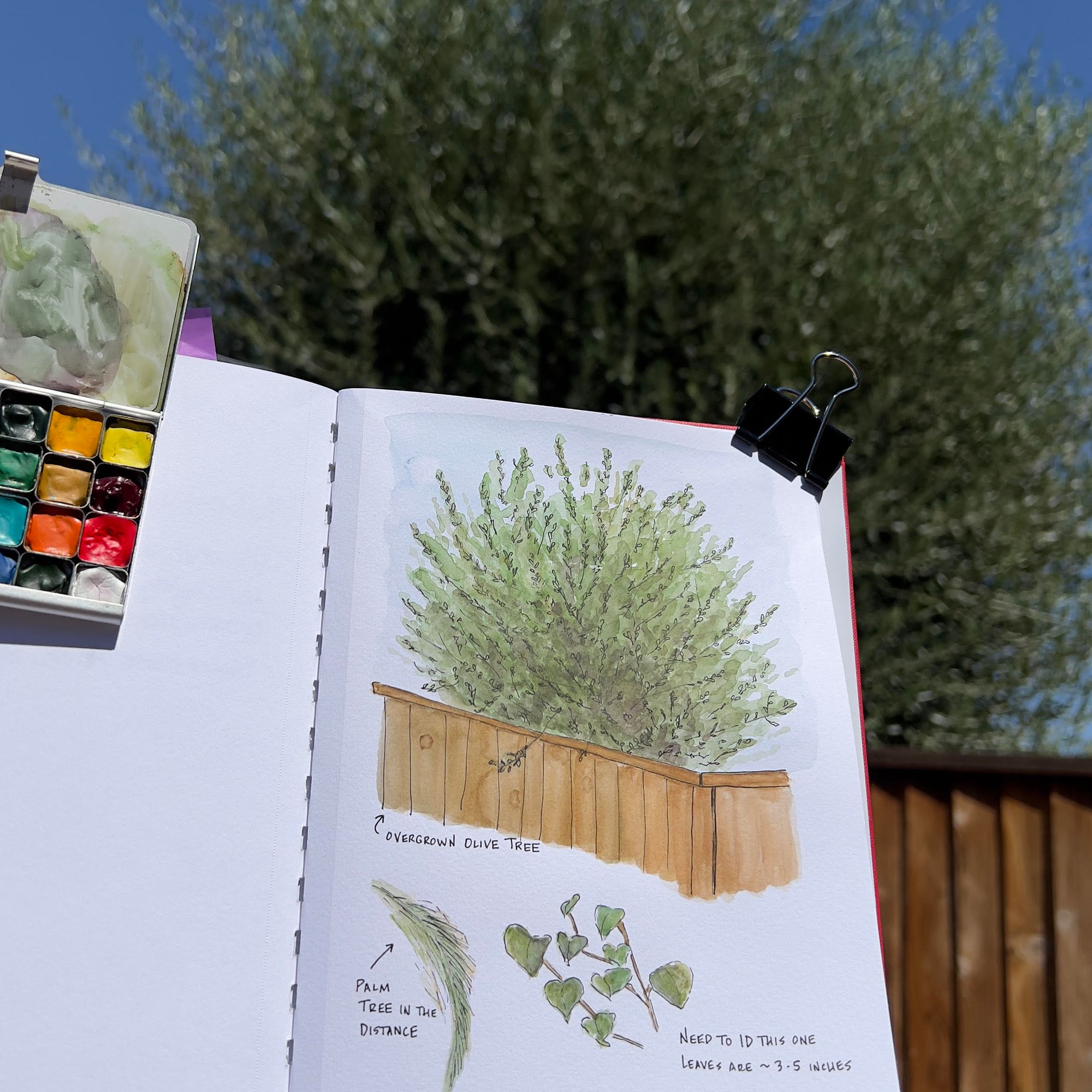 Here's what's in my nature journaling shoulder bag now:
First, the bag
My shoulder bag of choice is this wonderfully lightweight, water-repellant Mini Odyssey Small Crossbody Bag. I use this on its own for short walks or pair it with a backpack for longer outings. This shoulder bag provides quick access to my journal and favorite supplies easily without fussing with my backpack and is always stocked and ready to go on a hook near our front door.
Please note, as an Amazon Associate I earn from qualifying purchases if you decide to buy anything using any of the Amazon links below:
I like keeping my shoulder bag separate from my backpack so that the items I use most are within quick reach. I carry additional items such as a sun hat, water bottle, magnifying glass, Swiss Army Knife, and other odds and ends in my backpack.
Now, on to the goodies inside...
Sorta Notebook
I pack all kinds of paper into this Sorta notebinder, filling it with both Sorta's brand of paper and Canson Mixed Media paper. Once full, I remove the pages and file away any 'keepers' into a mini binder. Mine is in what I lovingly call Fred Rogers Red.
Waterbrush + extra tip
I've really been enjoying the Kuretake Fude Water brushes as they seem to have better water control than the Pentel Aquash Water Brushes. I carry one, full brush plus an extra nib (so I don't have to carry two reservoirs) so I can change brush tips when I need.
Various mechanical pencils and pens
I became a fan of the Koh-I-Noor Hardtmuth Mephisto mechanical pencil (0.5) many years ago, way before I got into drawing. This pencil just feels perfect in my hand – I love it. I have a second one in my kit sized 0.7 with Non-Photo Blue lead for fast-sketching light reference lines before I put down graphite and/or ink (idea from John Muir Laws). I prefer mechanical pencils for nature journaling as they allow me to leave a pencil sharpener at home (this way, I also don't have to fuss with carting around all my pencil shavings).
I'm also a fan of Uni-Ball Vision pens for their smoothness and line weights and have used these longer than the Koh-I-Noors (again, way before I got into drawing). They're mostly waterproof, so, they're a good fit for my kit. I also like to have a Micron Sakura Pigma Micron pen handy and tend to vary my line weights over time. At present, I reach mostly for the 01 and 005 weights. The Microns seem to hold up best to water when I add in my watercolors.
Metal clipboard (to hold watercolors)
Jason helped me remove the clip and cut down this lightweight, metal clipboard to fit into my nature journal. I wedge this between the last page and the back cover of my journal then clip my current page open (which also reinforces the board) with a binder clip. I use a magnet to attach my metal watercolor palette to the board and have a thin, light metal disk attached to hold a small cup of water (which also has a magnet) for days when I might want to use a paintbrush other than a water brush. My water cup also has a lid so I can avoid dumping paint water (which can contain toxic elements) into the environment.
Notecards
More about this in a future post, but I'm in the process of switching some of my digital notetaking systems over to an analog system due to how our brains process certain types of information. I also want to minimize how often I reach for my phone, especially when nature journaling, so, notecards it is!
Trash bags
I always carry a couple of trash bags and they serve a dual purpose: 1. When the ground or a seat is damp, they keep my bottom dry, and 2. When there's litter, I can pitch-in and help pick up trash. This can also help model this type behavior to others, who just might become better stewards of our environment.
Sweets
When my brain starts to fatigue, a little spot of chocolate or a couple of ginger chews are a pleasant treat and deliver a small burst of sugar.
Ponytail holder
Getting hair in my eyes (and in my watercolors) is never pleasant. A ponytail holder is a must for yours truly. A hat is even better.
Art Toolkit Watercolor Pocket Palette
This ArtToolkit Watercolor Pocket Palette is the size of a slim business card case. It's lightweight and easy to attach with a magnet through my metal clipboard. I love it and switch out my colors based on where I'm going.
Sock (watercolor brush dabber)
Another excellent idea from John Muir Laws: Cut the top off of an old sock and wear it around your wrist. It's a great way to blot your watercolor brush.
I typically refrain from talking much about products and supplies as I think it's easy to get carried away by gear and forget why we're drawing in the first place. At the end of the day, it's important to remember our art supplies are just tools, and tools are only as useful as we make them through ongoing practice. With that said, however, I've really appreciated the tips I've received along the way, and if my sharing some of my favorite tools here inspires you to get out and draw, then this guide is a success. 😊

Afterthoughts: Lately, I've been trying to limit myself to one pencil or one pen and bargain-basement paper. The experience is forcing me to focus more on technique and process, which is wonderful and liberating. What's your nature journaling supply of choice?